With a Timely account and Timely Ticketing Add-on, you can easily offer your event attendees the ability to register for free events, or buy tickets to paid events. You just need to add the Ticketing Add-On to your Timely account. Learn all the steps in this post.
Please note that not all Timely Event Management Software plans come with the Ticketing feature included. If you want to have this feature, you can add the Ticketing add-on to your current plan or upgrade it to a more comprehensive plan that has the Ticketing feature included.
1. How to Add the Ticketing Add-On to Your Plan
Follow these steps to add the Timely Ticketing add-on to your plan:
Log in into your Timely app account;
On the Events page, on the Add Event section, scroll down until you see the Cost and Tickets option;
On the Cost and Tickets section, click on the arrow to expand the options;
Then, choose on one of the four ticketing options available:
Event Registration/RSVP
Time Slot Registration/RSVP
Event Ticket
Time Slot Ticket
The options Entry Fee and External Tickets are available to all plans because they don't use the Timely Ticketing feature.
When you click on one of the four options listed above, you will be able to see a message letting you know that you can have the Ticketing Add-on and start using this feature ASAP. Check the image below to see how it looks.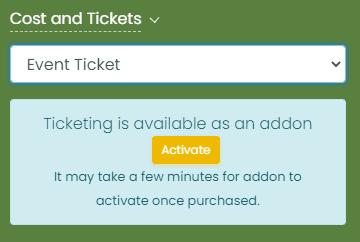 To add the Ticketing Add-On, just click on the yellow button Activate.
2. How to Activate your Ticketing Add-On
Once you click on the Activate button, you will be redirected to another page so you can add your contact and billing information.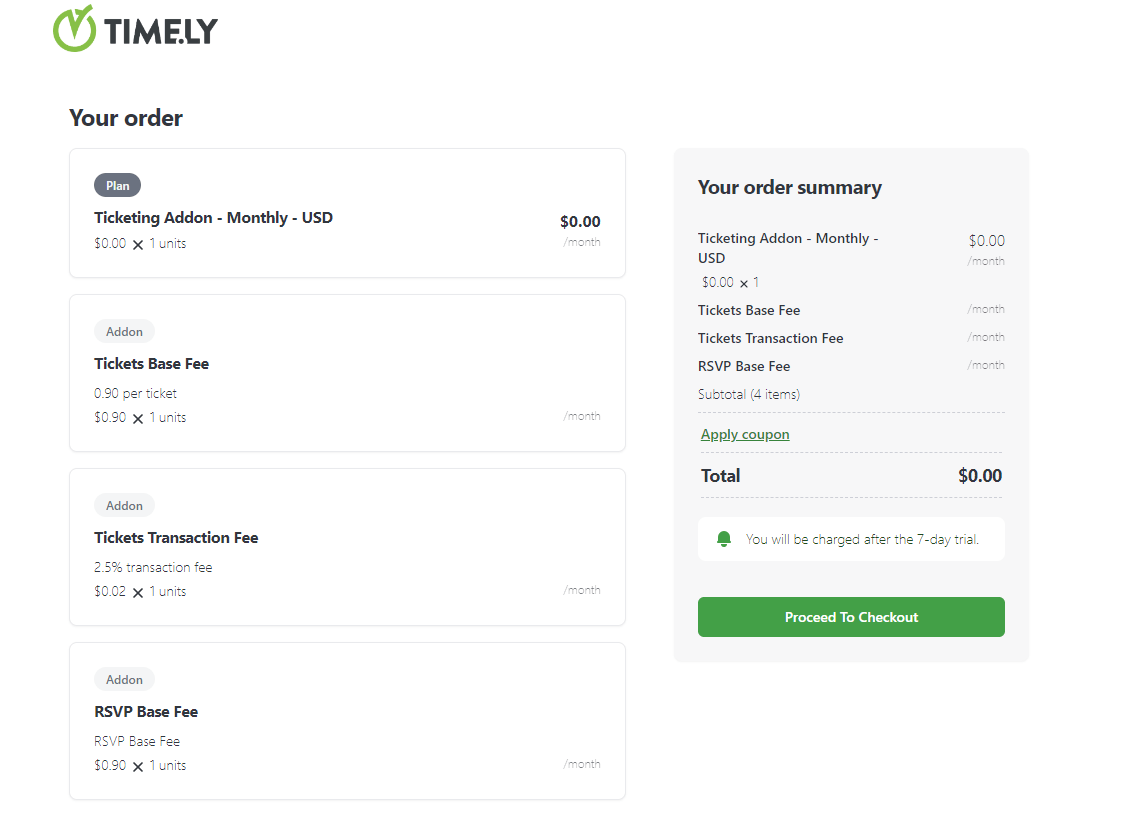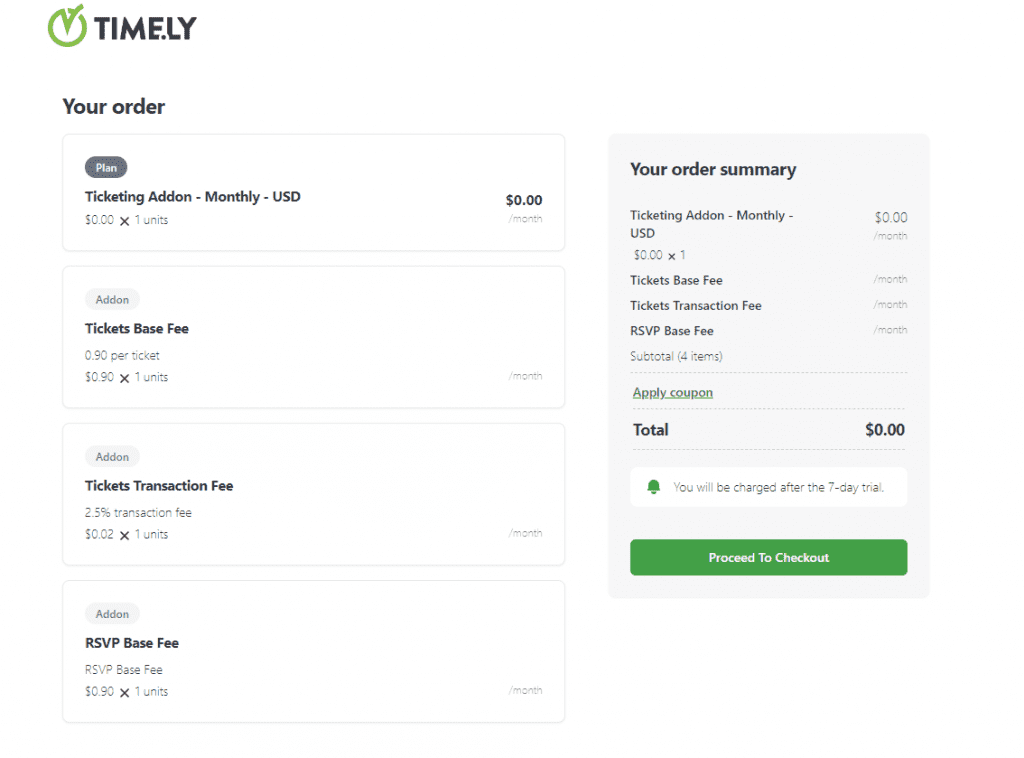 Check your contact information;
Then click the Continue button;
Fill your billing information, and
Lastly, click the Subscribe button.
If you have a Coupon Code make sure to add this before clicking the subscribe button. It may take a few minutes to activate the add-on once purchased.
If you have any Timely Free Plan, adding this add-on does not mean that you have a subscription with us. What it means is though is that, if you end up using our ticketing solution, you will have to pay us a tickets transaction fee and a base ticket fee for each ticket sold.
Please note that the registrations/RSVPs don't generate cost to your customer. However, each RSVP still has the base fee for each RSVP that was acquired through your events calendar.
Importantly, when you sell tickets to paid events, you can easily change who pays the ticket transaction fees. You can choose to pass this fee on to your customers, or absorb them into the ticket price and pay them yourself. This applies only to paid events, since free events do not carry any fees. Learn all the steps at this helpful user guide: How to Change Who Pays Ticket Fees (Pass On or Absorb).
For more user guidance, please go to our Help Center. If you have any questions or need additional assistance, do not hesitate to contact us. Alternatively, you can open a support ticket from your Timely account's dashboard.