With a Timely account, you can add users to your events calendar. You can also give them different permissions depending on their roles in your organization. This way it is easier for you to manage and optimize the events that are added to your calendar. Continue reading to learn how to add users to your Timely account.
1. How to Add Users?
To create user accounts, navigate to Settings > Users. Then, click on the green plus button in order to add a new user. It is necessary to enter the name and surname, email address, and specify the user role.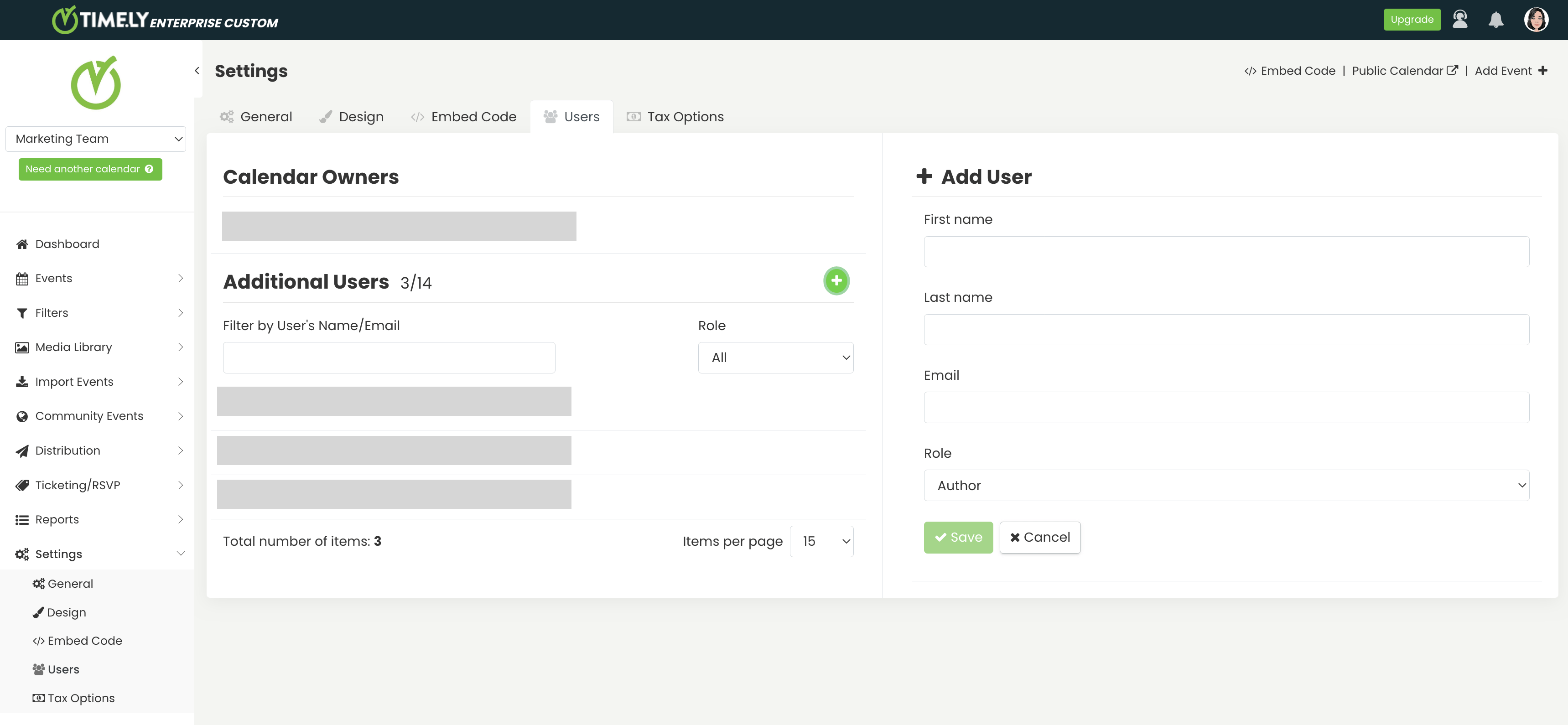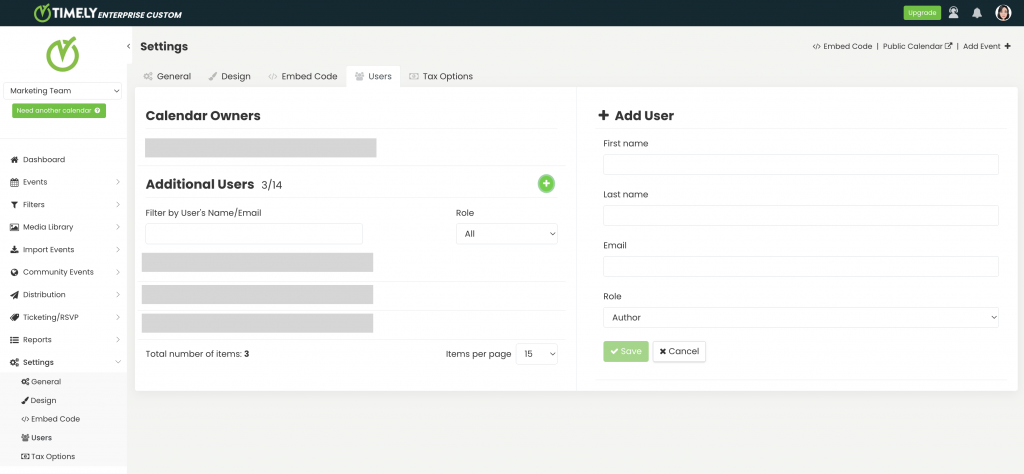 2. What Are the User Roles and Permissions?
The roles have different accesses within the calendar. Available roles are:
Administrator: Allows access to the whole calendar settings, plus can receive email notifications.
Editor: Allows to publish and edit all events in the calendar.
Author: Allow to publish and edit only their own events.
Attendant: Allows to scan QR codes on event tickets.
You can check each role's permissions on the table below: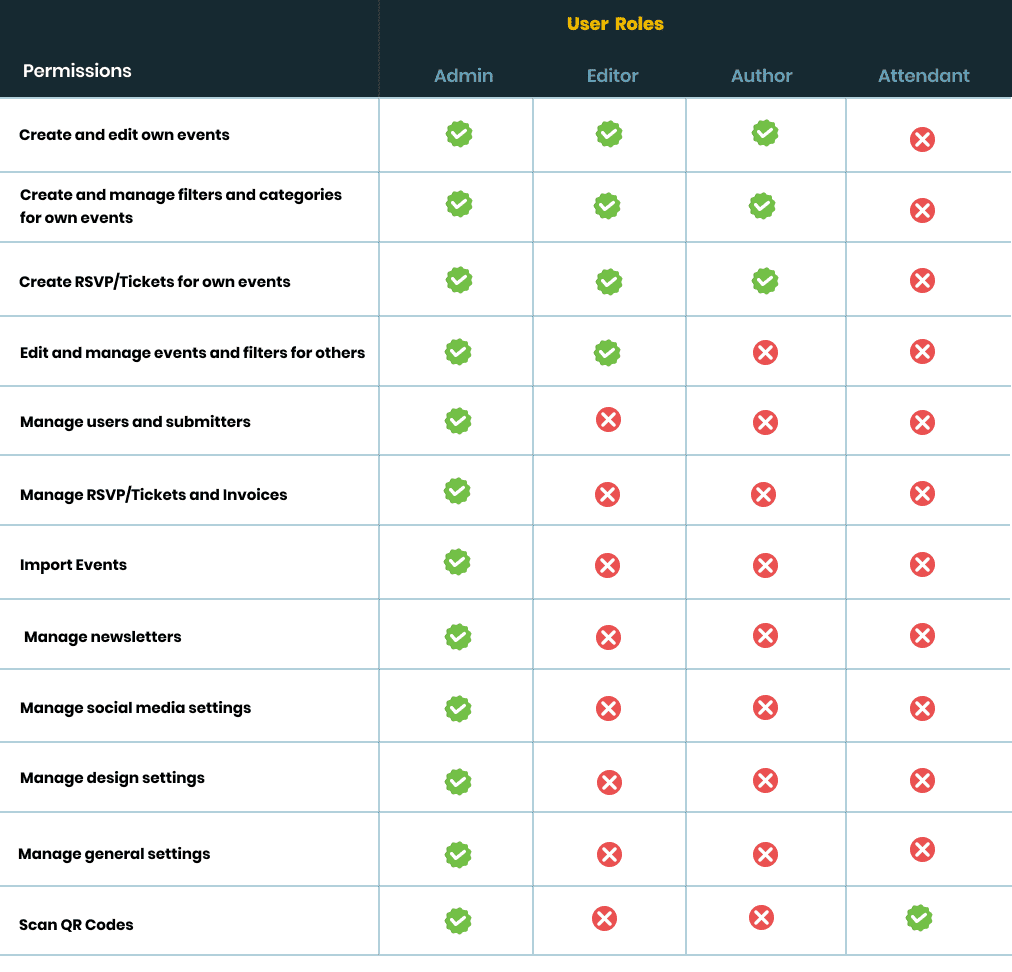 Moreover, you can decide which Administrator users will receive notifications from our system. Currently, our software send automated emails regarding RSVP or Ticket purchases, RSVP or Ticket cancellations, and Event Submission.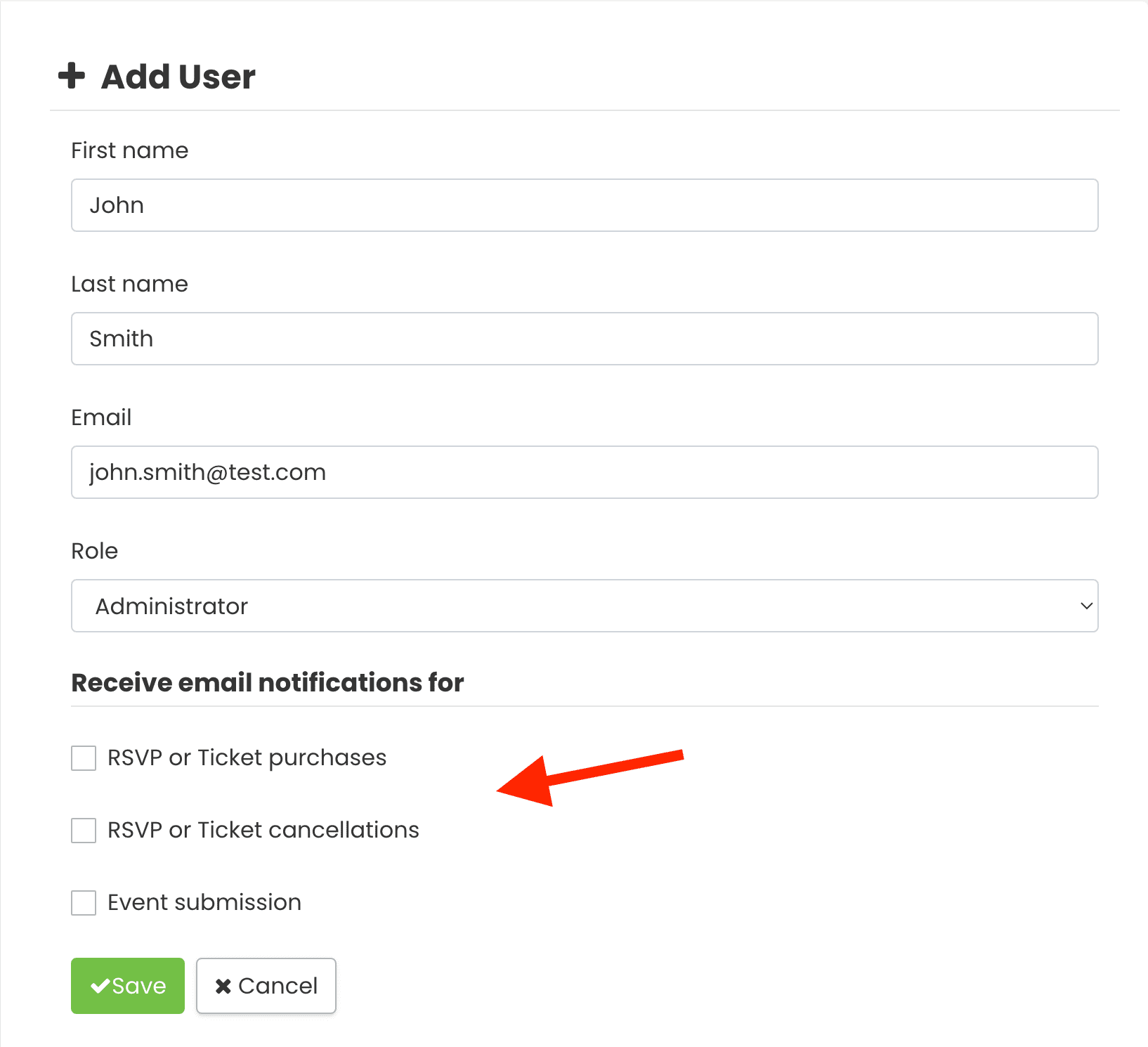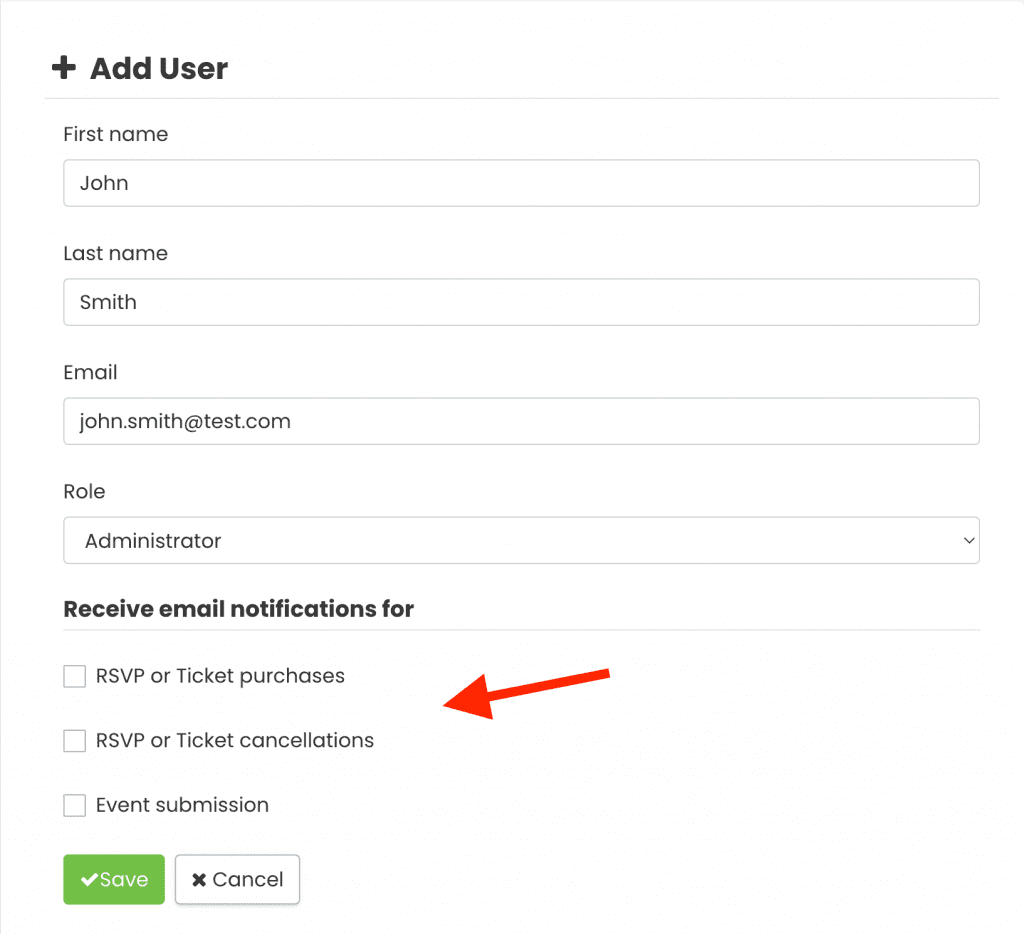 3. Managing Calendar Users
If you are an Admin User, you can manage others users. To do so, go to your Timely account, click on the Settings menu, and then on the Users tab. If you wish, you can use the filters to list users by their names, email addresses or roles.
On the list of users, you will find information about all your users and be able to change properties for each of them, individually. The available options are:
Edit;
Download User Activity Log; and
Delete.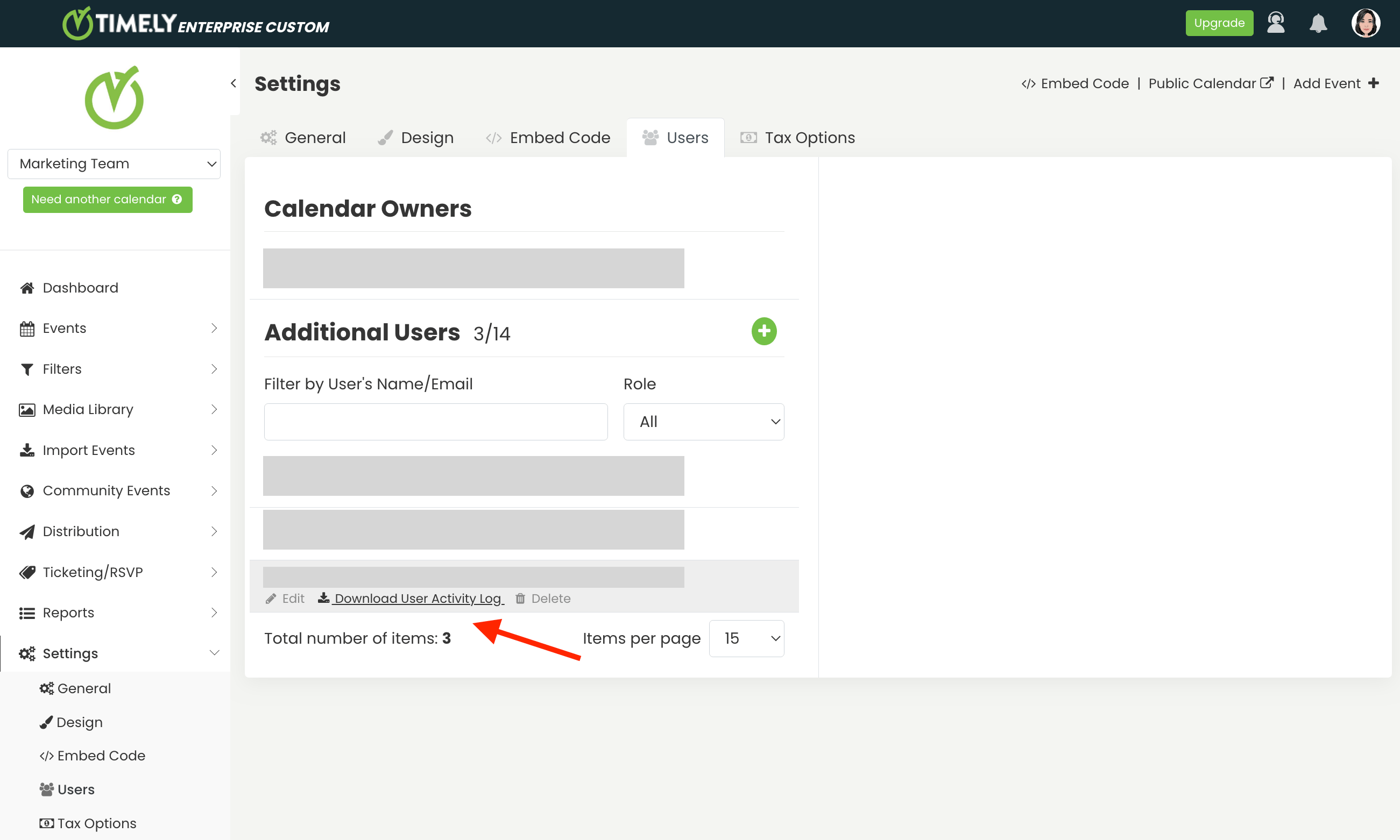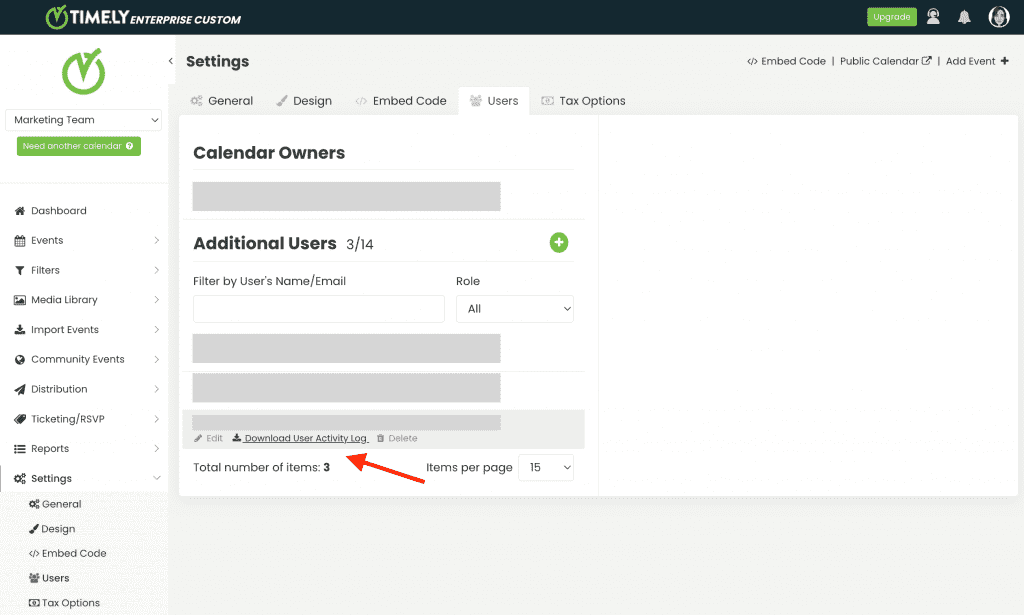 4. How Do Users Log in and Access the Calendar?
New Timely users will receive an invitation by email. They will need to create an account with a password, and then login into Timely's event platform to be able to access the calendar.
Current Timely users will also receive an invitation by email. After logging in with their Timely credentials, current users might need to click on their profile icon on the top right corner to switch between their own calendar(s) and the new calendar they got invited to.
If you need extra user guidance, please go to our Help Center. If you have any questions or need additional assistance, do not hesitate to contact us. Alternatively, you can open a support ticket from your Timely account's dashboard.