With a Timely account, you can create several different types of events, depending on your event structure. In this post, you will learn how to create one day, multi day and recurring events on your Timely events calendar software.
1. How to Create One Day Events
One day events are single events that happen for only one day, and do not repeat. Usually, they have a set start and end times, which can be just few hours, half day or full day. For example, a fundraising dinner or a university lecture with a special guest.
To create a one day event, first you need to login into Timely account, and go to Events. On the right side of the screen, you will see the Add Event section, which is where you add the event details in order to create an event.
For one day events, the start and end dates need to be the same, but the start and end times are different. Choose the date and time of your event, complete all the remaining information, and then Save as Draft, Schedule or Publish your event.

If the event has no start and end time (i.e. lasts the whole day), just check the All-day event option.
2. How to Create Multi Day Events
A multi-day event is an event that takes place over 2 or more consecutive days. Conferences and workshops are examples of multi day events.
You create multi day events the same way you create any other event on your Timely events calendar. The only difference is that you will need to specify the start and the end dates and times of the event.
Alternatively, you can simply check the No end date option, and the event will appear on your calendar every day until you uncheck this option.
3. How to Create Recurring Events
A recurring event or repeating event is an event that occurs more than once on your events calendar. With a Timely account, rather than creating an event multiple times, you can create repeating events at intervals according to a pre-defined rule. You can create recurring events that repeat every day, week, month, or only at certain days.
Daily Recurring Events
To create daily recurring events, you can set the event to repeat every day, or every 2 or more days. You can also determine a specific date for the recurrence to end, if necessary.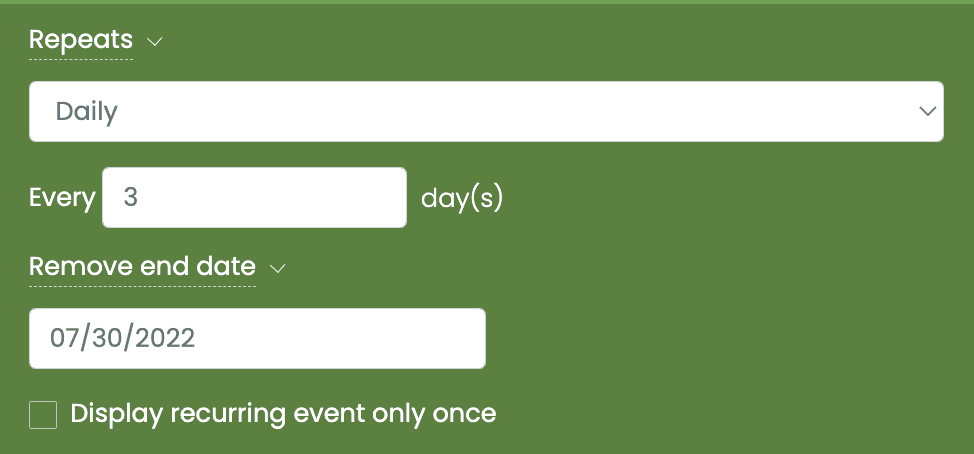 Weekly Recurring Events
If you want to create events that repeat on a weekly basis, just select Weekly on the Repeats dropdown menu. Then, choose the week days you want your event to repeat. Moreover, you can set the end date of your recurrence. For example, an event that happens on Mondays, Wednesdays and Fridays, every 2 weeks, and ends on August 31 2022.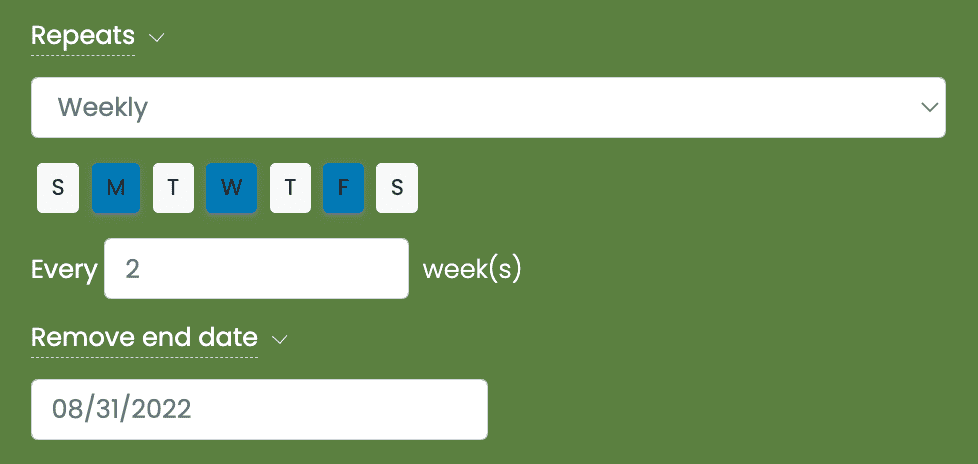 Monthly Recurring Events
For events that repeat every month, select the Monthly recurrence.
The recurring options are:
On the same day of the month. For events that always happen on the same day of the month regardless of the day of the week they fall into. For example, an event that repeats on the 1st day of each month;
Day of the week. For events that happen on a pre-determined day of the week within the month, such as the 1st Monday or the last Friday of every month;
Day of the month. For events that repeat on specific days each month. For instance, the 1st, the 11th and the 25th. This setting is different from the first one because you can set up more than one day in your monthly recurrence.
In addition, you can determine the monthly interval and the end date of your recurring event.
Custom Recurring Events
In case your recurring event does not fall under any of the other recurrence options, you can customize the repeat interval under the Custom recurrence option. Just select the calendar dates on which you want the event to be repeated.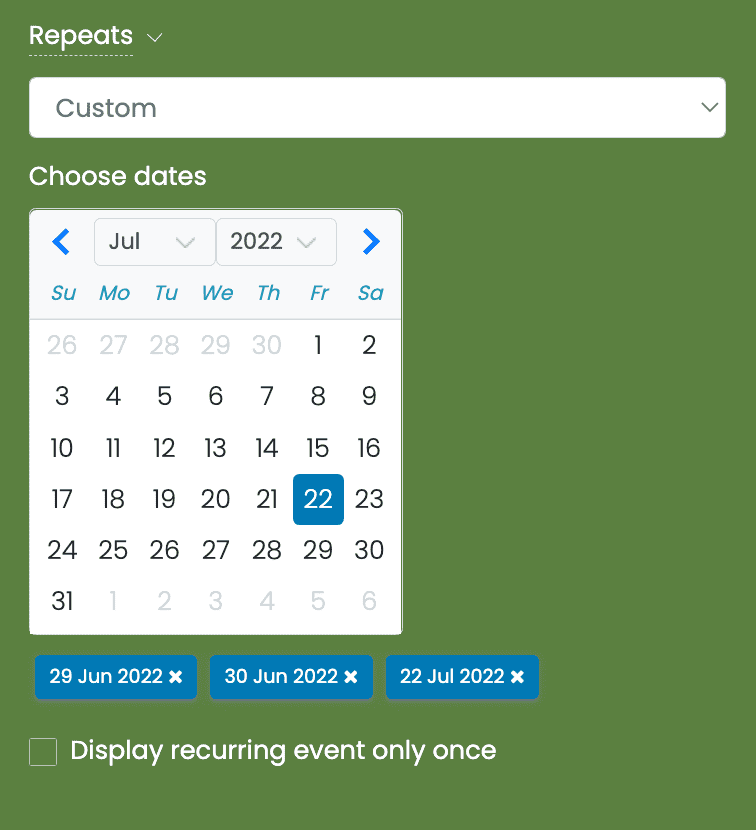 Display Recurring Event Only Once
By default, all published recurring events will appear on your Timely events calendar. However, you can change that setting if you do not want an event to be displayed on the calendar every day they recur. You just need to the box Display recurring event only once before publishing your event.
Exclude Recurrence
If you do not want the event to repeat on certain days, just select one of the options in the Exclude options drop-down menu. The exclusion options are the same as the recurrence options. In other words, Daily, Weekly, Monthly and Custom. This functionality is very useful to exclude holidays of your recurrence rule.

For more user guidance, please go to our Help Center. If you have any questions or need additional assistance, do not hesitate to contact us. Alternatively, you can open a support ticket from your Timely account's dashboard.