With a Timely account, you can import events from AllEvents.in and other event discovery platforms with ease. Importing events into your online calendar saves time when it comes to creating event-related content for your website. You can add the AllEvents.in event to you calendar without having to copy and paste all the information because there is an extension that does everything automatically for you! In this post, you will learn how to import events from AllEvents.in with Timely Google Chrome Extension.
1. How to Install the Timely Calendar Chrome Extension
To import events from AllEvents.in into your Timely Calendar, the first thing you need to do is to download and install Timely Google Chrome extension in your browser. Go to Timely's extension page on Chrome Web Store, and click on the "Add to Chrome" button.
Then, a pop-up window will open on the screen. Click on the "Add extension" button to confirm the action, and the Timely Calendar extension will be added to your browser.
2. How to Sign in with your Timely Account Credentials
After installing the extension, Timely's green checkmark icon will appear in the upper right corner of your Chrome browser. Simply click on the icon and sign into your Timely account by entering your login details and pressing the Sign in button.
Once you sign in, you will see a drop-down list with all Timely calendars under your account. Choose the calendar you want to add events from AllEvents.in.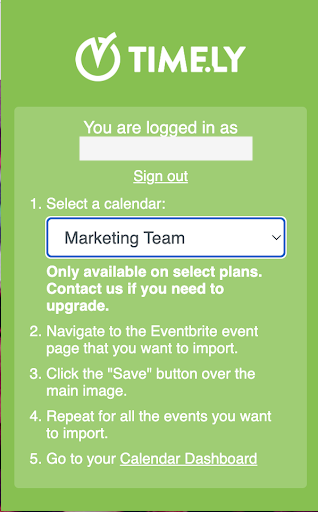 3. How to Import Events from AllEvents.in with Timely Chrome Extension
To import events from AllEvents.in into your Timely events calendar, open Google Chrome, and then go to AllEvents.in's website: https://www.allevents.in/.
Next, on the upper right corner of the browser click on the extension icon. Select the Timely Calendar extension, and sign in into your Timely account.
Assuming that you are planning to import events organized by others, navigate through AllEvents.in categories and search tools to discover relevant events. Click on the selected event post, and a new page will open on your screen with additional event details. If you want to import an event you created, you can go directly to the event page.
On the top of the page you will find a green Save button with the Timely icon and a white arrow. Click on the white arrow to select the applicable filters for that particular event.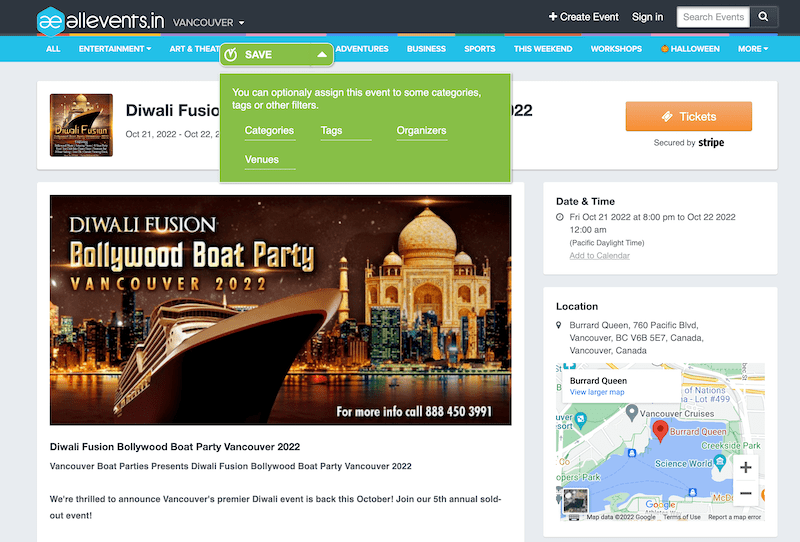 Next, click on Save button to import the event into your Timely Calendar. The imported event will be immediately published to your calendar.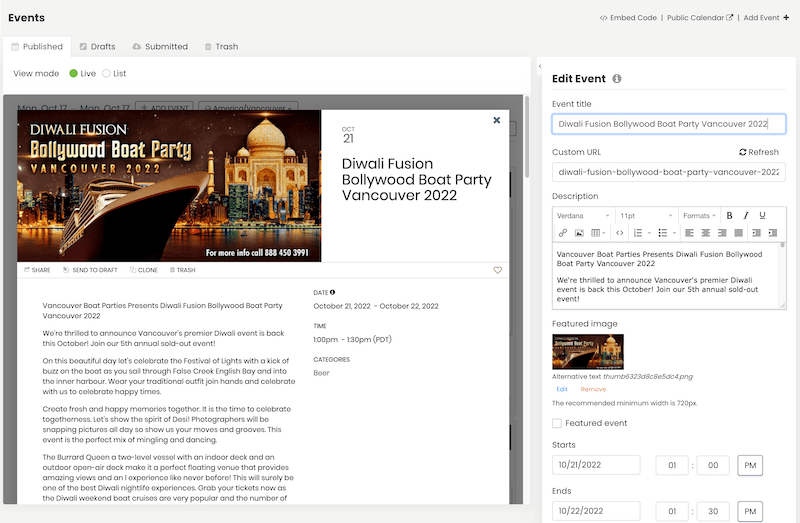 Important: After importing an event from AllEvents.in into your Timely calendar, we recommend confirming if it the information matches. Sometimes, images or other details are lost while importing because of changes to AllEvents.in's website that are out of our control. If you experience any difficulty when trying to import events from AllEvents.in using the Timely extension for Google Chrome, please contact us.
For more user guidance, please go to our Help Center. If you have any questions or need additional assistance, do not hesitate to contact us. Alternatively, you can open a support ticket from your Timely account's dashboard.