Social media automations are a good way to promote and distribute events more efficiently. They can also improve productivity by reducing the time spent on tasks that wouldn't need to be reviewed. With a Timely account, you can auto-share your event posts on social media platforms, such as Facebook, Twitter and LinkedIn. In this post you will learn how to post events on Facebook automatically.
1. Timely Social Media Automations
When it comes to event promotion, sharing events on social media is one of the most effective ways to reach a lot of people with a single marketing action. Nevertheless, publishing events on your online events calendar and then republishing them on social media can be a labour-intensive task.
When using Timely native social media automations, you'll be able to optimize your social media promotion and post events on Facebook automatically. Automating Facebook publications reduces the time spent on distributing your events and maintaining and growing your brand account on this particular social network.
2. Authorizing Timely to Post Events on Facebook
Since Facebook is one of the most used social media platforms in the world. Generally, people use it to share information and connect with friends and family. Thus, distributing your events on Facebook can increase event awareness, engagement and attendance.
Check out how to publish events on Facebook using Timely native integration:
On your Timely dashboard, click the Distribution item on the main navigation menu;
Then, click on the Facebook submenu;
When the page opens, click on the Connect to Facebook button. If you're not already logged in into your Facebook account, you will need to log in before clicking on this button.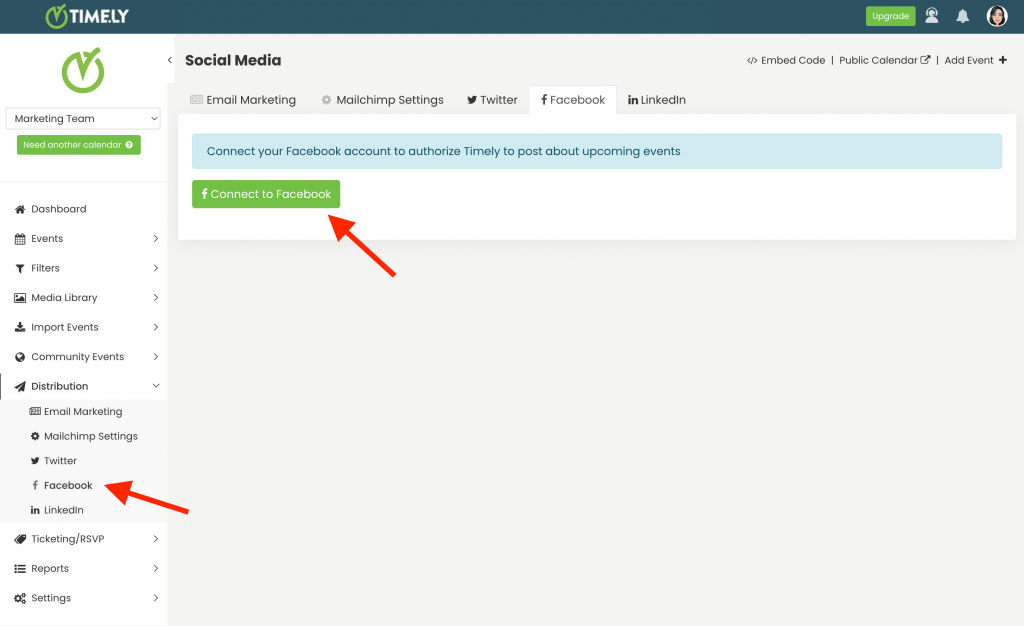 A pop-up window will open asking you to log in with Facebook. Add your Facebook account email and password and follow the Facebook authentication steps.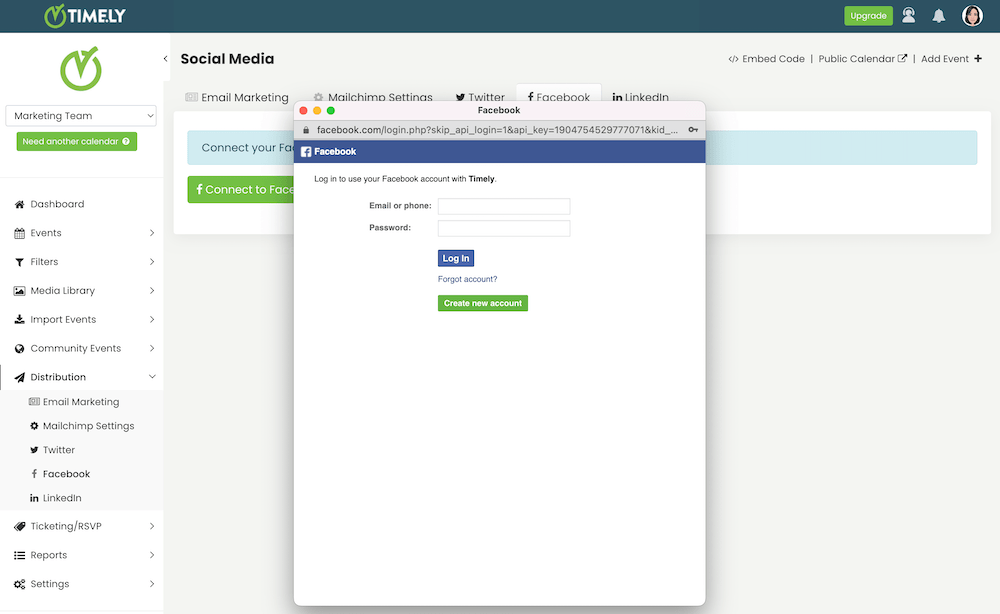 Select the Facebook page where you want to auto-share events, and click Confirm.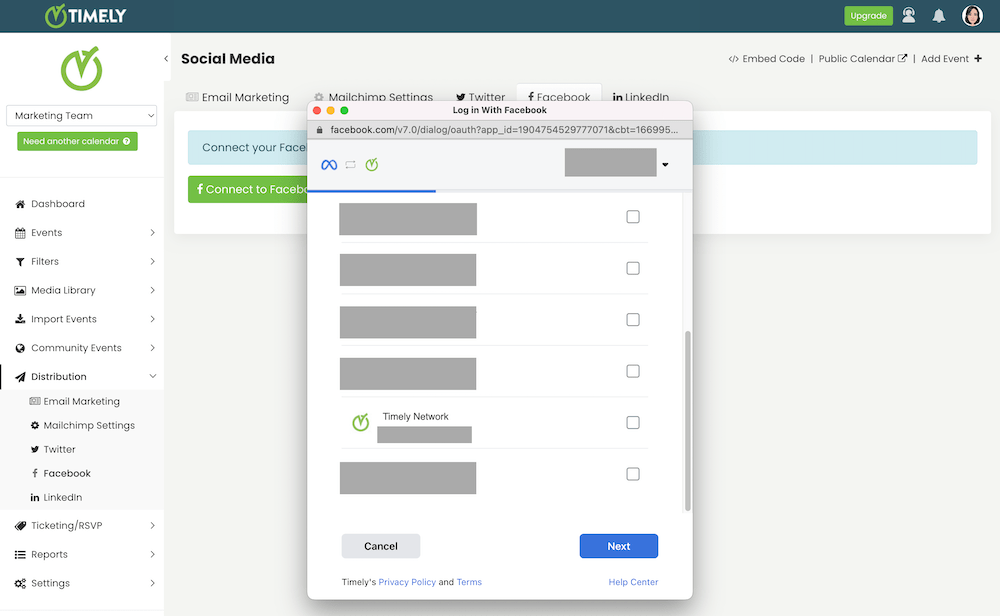 3. Setting Up Facebook Automation
After connecting your Facebook account with Timely, you will be redirected to your Timely dashboard to set up your automation. You will see a new page where you can schedule your upcoming events posts on Facebook.
The automation allows you to decide how many days and hours before the event starts you want the software to post event on Facebook on your behalf. You can also check the Post for all events by default option. However, you should know that this option will only affect new events you create, not existing ones.
If you only want to publish specific events on Facebook, you can do that. On the event creation page there is a Social Media option, where you can check to post events on Facebook automatically.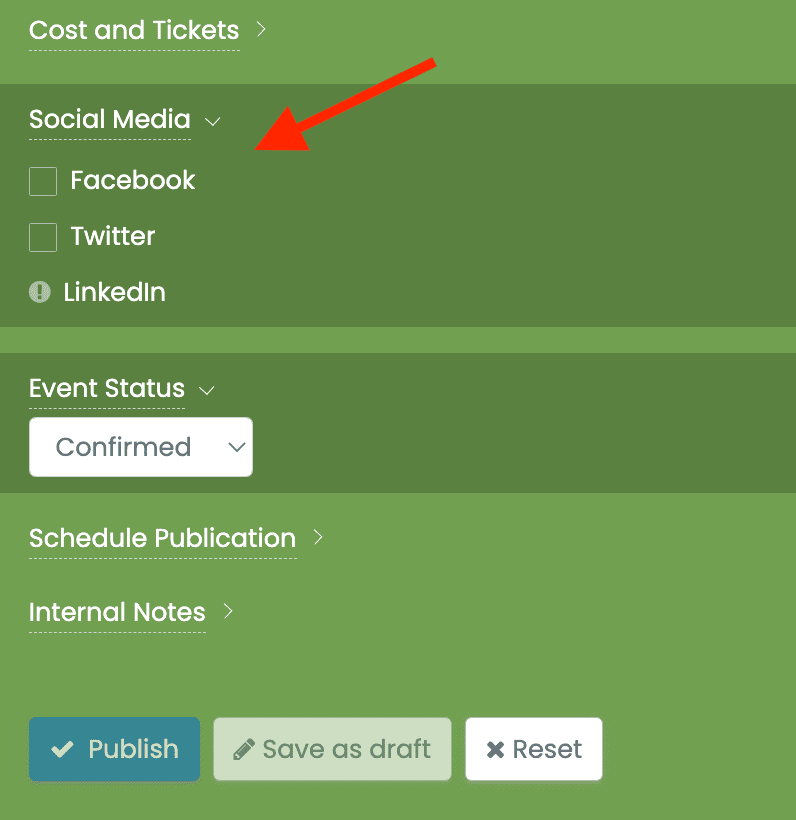 4. Event Post Preview on Facebook
After setting up the automation, Timely event software will post events on Facebook automatically on your behalf, making sure they look great and fit perfectly in your feed.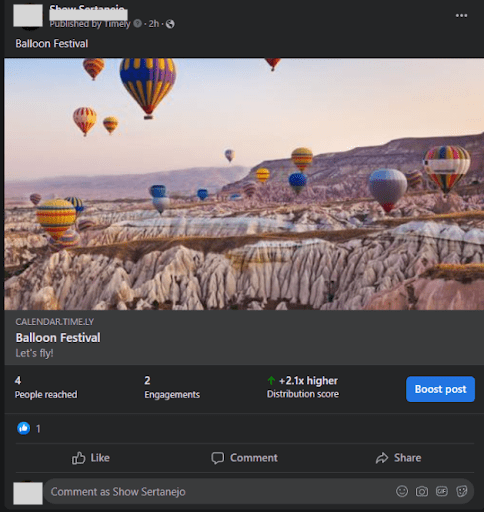 For more user guidance, please go to our Help Center. If you have any questions or need additional assistance, do not hesitate to contact us. Alternatively, you can open a support ticket from your Timely account's dashboard.