Social media automation can help your event promotion and distribution efforts enormously, as well as reduce the time spent on tasks that do not require a human touch. With a Timely account, you can automate the publishing of your event posts on social media platforms, such as Facebook, Twitter and LinkedIn. In this post you will learn how to post events on Twitter automatically.
1. What is Social Media Automation?
Certainly, social media is one of the best ways to promote your events and instantly reach millions of people. However, posting events on your website events calendar and then reposting the same events on social media is a time-consuming task.
With Timely native social media integrations, you have the ability to automate the publishing of events on social media. You can set up your social media publishing schedule, so events are posted automatically on the exact day or time before each event starts. This saves you tons of time and effort you'd normally spend promoting your events on social media everyday.
2. Authorizing Timely to Post Events on Twitter
Twitter is an easy-to-post and update social media platform. You can get news and comments faster than other social networks. Here is how to use Timely Twitter native integration:
On your Timely dashboard, click the Distribution item on the left main menu;
Then, click on the Twitter submenu;
Once you open that page, a Connect to Twitter button will appear. Click on that button to link your Twitter account. If you're not already logged in into your Twitter account, you will need to log in before clicking this button.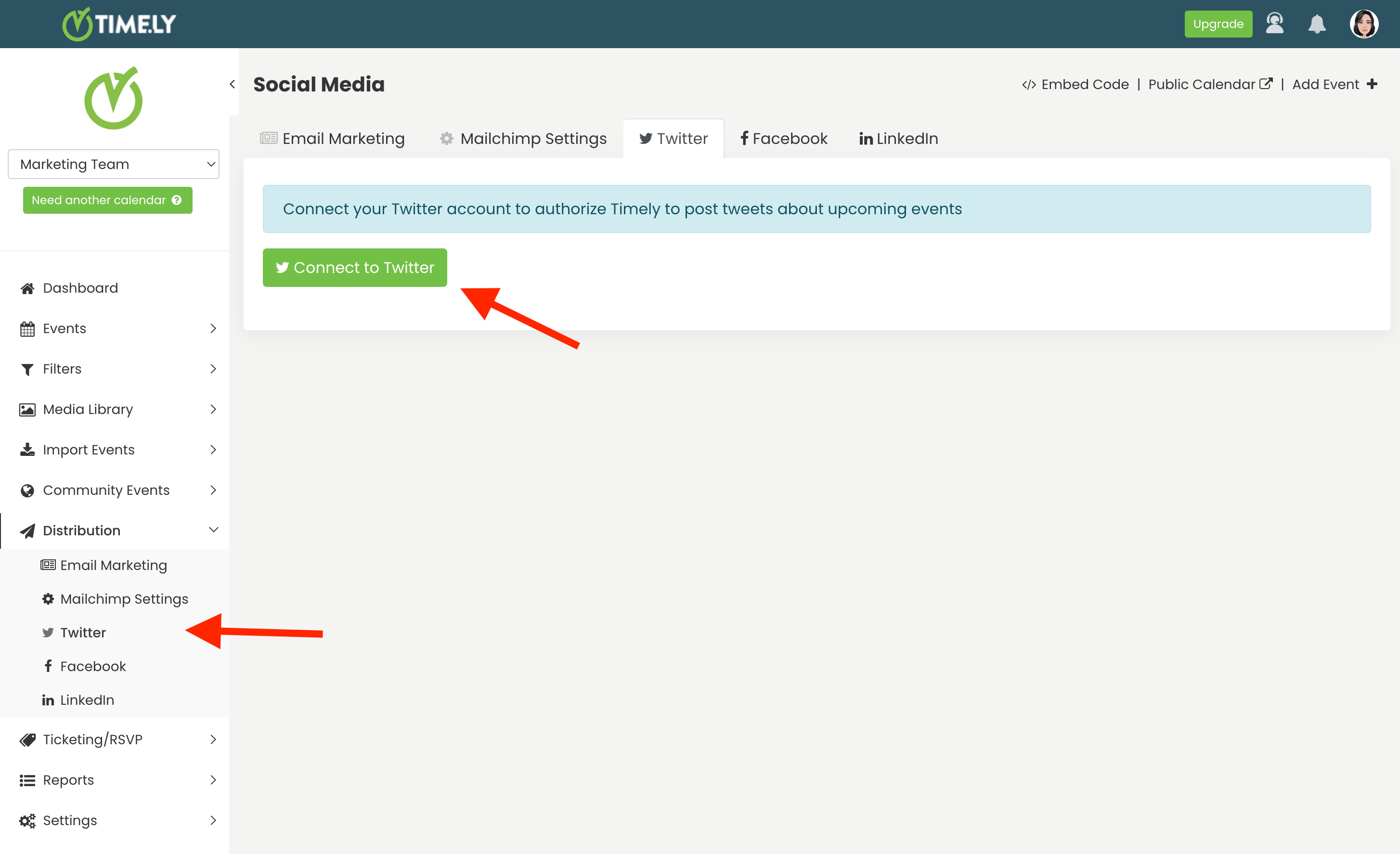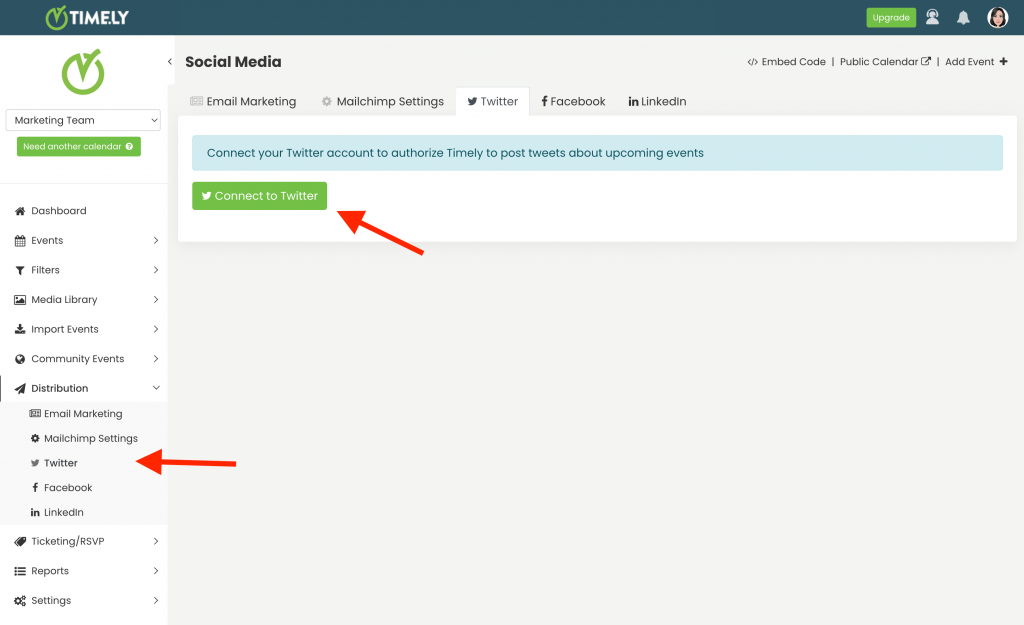 The Twitter authorize page will open on the screen. Then, you will need to click the Authorize App button to authorize Timely to post upcoming events on Twitter on your behalf.
3. Setting Up Twitter Automation
Once you have authorized Timely to access your account, you will be redirected to your Timely dashboard to set up your automation. You will see a new page where you can schedule your upcoming events posts on Twitter.
The automation allows you to decide how many days and hours before the event starts you want the software to post event on Twitter on your behalf. You can also check the Post tweets for all events by default option. However, you should know that this option will only affect new events you create, not existing ones.
If you only want to publish specific events on Twitter, you can do that. On the event creation page there is a Social Media option, where you can check to post events on Twitter automatically.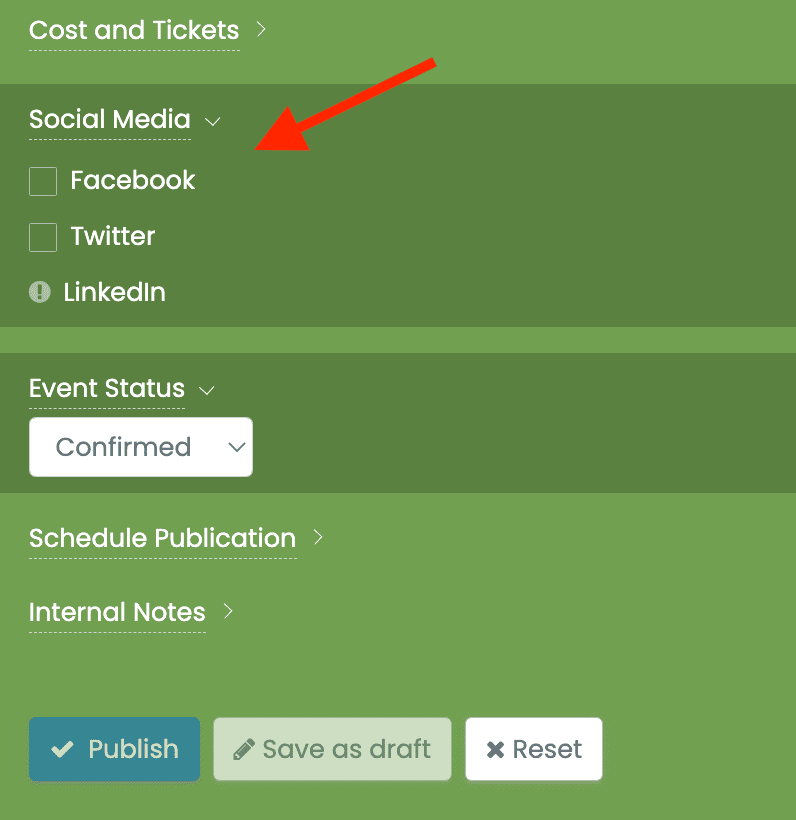 4. Event Post Preview on Twitter
When using Timely event software you don't need to worry about how your event will look like in your twitter feed. After setting up the automation, Timely will post events on Twitter automatically, on your behalf. You can rest assured that the automated tweets will be attractive and will match your events' publication.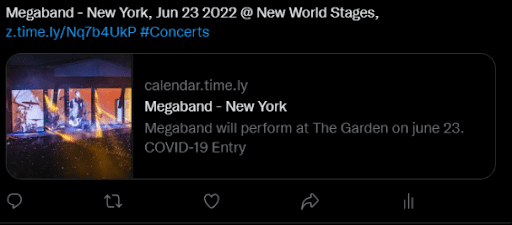 For more user guidance, please go to our Help Center. If you have any questions or need additional assistance, do not hesitate to contact us. Alternatively, you can open a support ticket from your Timely account's dashboard.