Depending on the type of event you are hosting, you can find different strategies to attract people and new attendees. Some people would like to guarantee their tickets by purchasing them earlier, while others prefer to purchase them at the last minute. No matter your client's profile, you can easily satisfy their needs by making different types of tickets available to them, and letting them purchase according to their preferences. In this post, you will learn how to create time-sensitive and early bird tickets.
1. Why Use Time-Sensitive and Early Bird Tickets?
Time-sensitive and early bird tickets are a good way to create awareness about events, while encouraging your audience to register and purchase tickets earlier.
These tickets are often promoted giving people a large discount during one or more predetermined pre-sale periods. Early bird discounts range from 20% to 50% off the regular ticket price. The audience segment that usually purchases those tickets are loyal fans or members, who are eager to register for the event in advance.
From the event organizer's perspective, this ticket-selling strategy can give a better idea of the number of event attendees, which is quite helpful for venue and catering planning. Moreover, it can help pay for some unexpected expenses during the pre-event period.
2. Developing a Tiered Ticket Pre-Sale Strategy
With a Timely account and Timely Ticketing Add-On, you have a wider variety of options to create tiered time-sensitive tickets for your events. However, before jumping to the step-by-step instructions, we recommend you develop a ticket pre-sale strategy. Key points to take into consideration are the following:
Number of ticket tiers
How many tiers of time-sensitive tickets are you going to offer for your event? Depending on the size of your event, it may make sense to offer more than one ticket tier to your audience. For example, for large concerts and sports events.
Quantity of tickets per tier
How many tickets per ticket tier are you going to offer for sale? The amount of pre-sale tickets offered must be enough to generate a buzz without undermining positive event ROI. Usually, event organizers separate a small portion of their overall ticket capacity to early bird ticket types.
Time period of each ticket tier
For how long each ticket tier will be available for sale? When does each ticket tier's sales period start and end? To ensure your event is a success, it might be wise to start selling early bird tickets as soon as possible. In addition, they should have a clear deadline.
Importantly, make sure the sales period for each ticket tier do not overlap. This way you will not have more than one tier available for sale at a given time.
Name of each tier
How will you name each ticket tier? In order to inform your audience clearly and differentiate them, we recommend giving each one a special name. It can be something as simple as Tier 1, Tier 2 and Tier 3 tickets, or more elaborate like Early Bird and Super Early Bird tickets.
Tiered tickets' price
How much are you going to charge for each ticket? How much people would be willing to pay to purchase tickets for your events in advance?
3. Create Early Bird Tickets
While setting up your event tickets in your Timely dashboard, you can customize any type of time-sensitive ticket, such as early-bird tickets. You just need to set up the name, price, quantity and sales period. Keep reading to learn all the step on how to configure your time-sensitive tickets.
First, go to Events, and select a previously created event to edit or create a new one.
On the event settings, go to the Costs and tickets section. Then, choose the type of ticket you want to create. If you need help to select the right ticket type, check How to Set Up Cost and Tickets for your Events.
After choosing one of the Timely ticketing supported options, you will see additional sections on the screen. Click on the + symbol to create your first ticket block.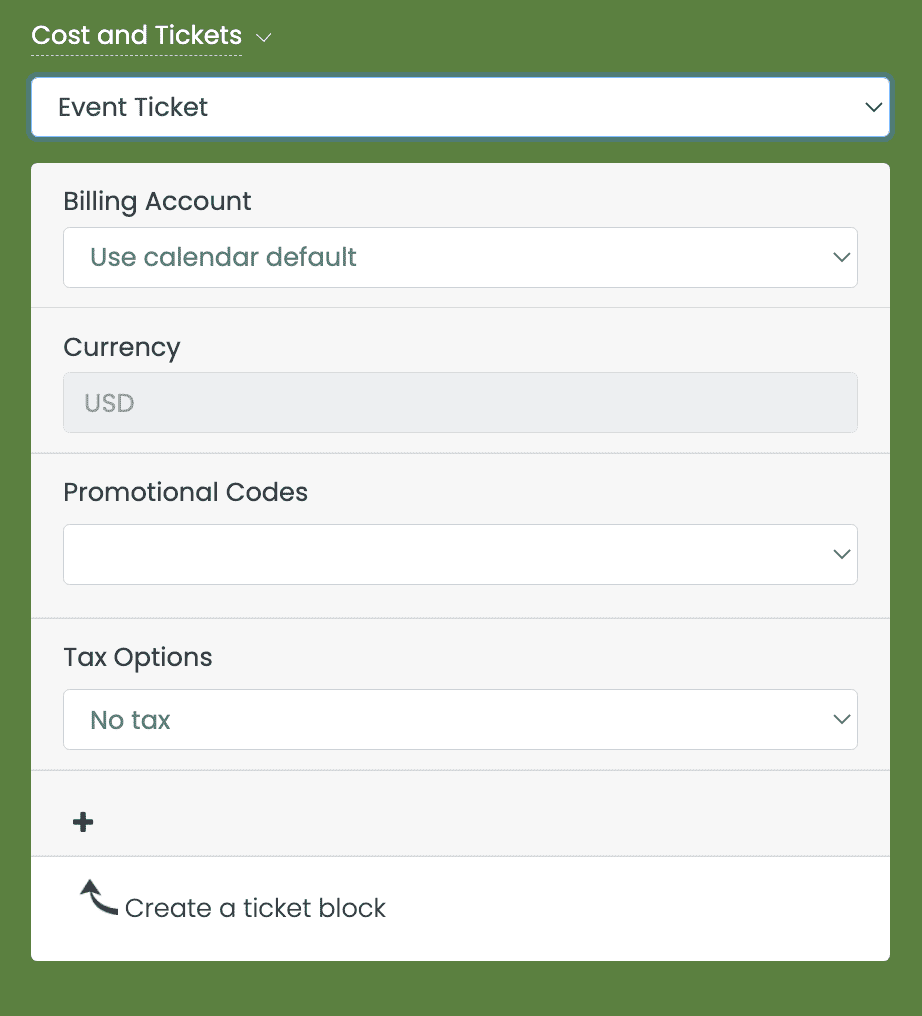 When creating a ticket block, add as much information as possible. Add a ticket name, ticket price, number of tickets available and maximum of tickets per purchase.
At the end of the ticket set up section, you will see the Available Immediately checkbox.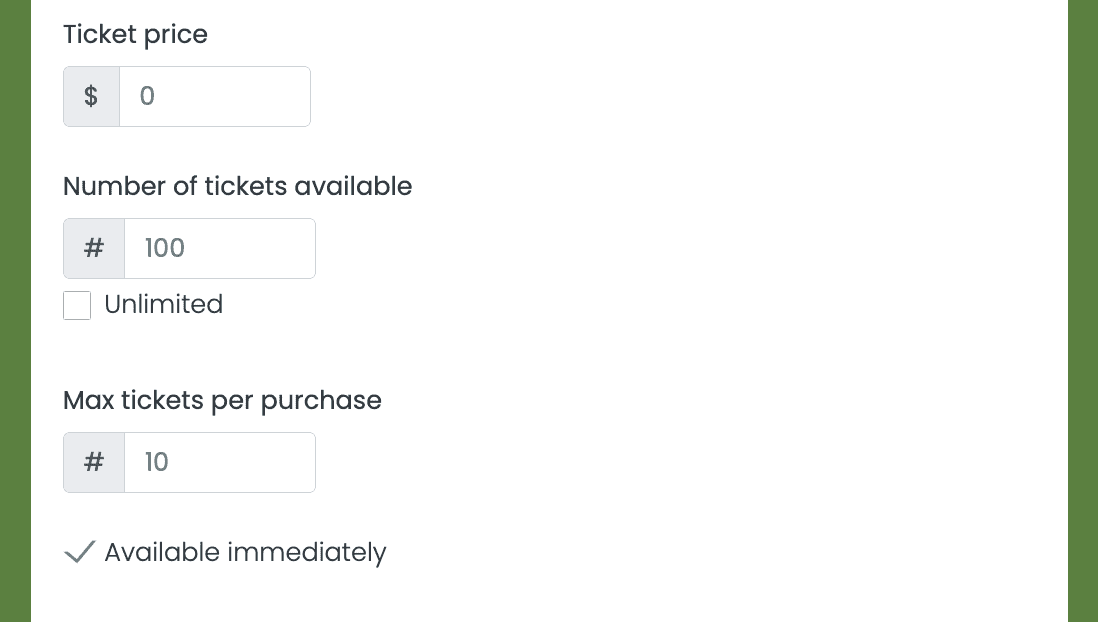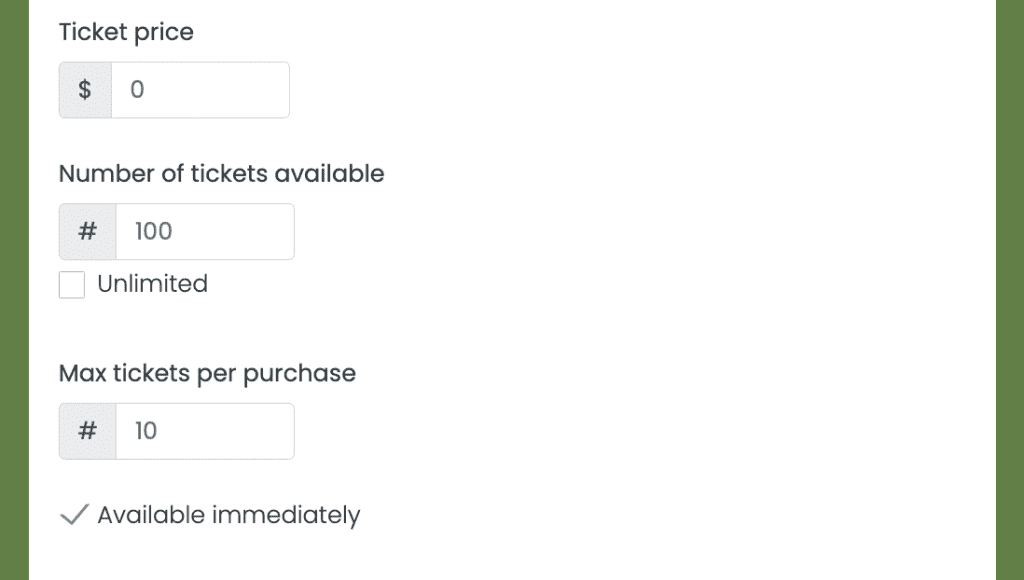 Uncheck that box, and you'll see additional fields to set up your pre-sale period. Complete the ticket sales start and end periods for this particular time-sensitive ticket.


In the image above, we have set the early bird ticket sales to start eight weeks before the event date, and end six weeks before the event. This means that your audience will have a two week window to purchase these early bird tickets. Also, it means that six weeks before the event, ticket sales will end and nobody will be able to purchase them anymore.
4. Create Additional Time-Sensitive Tickets and Regular Tickets
By clicking the + symbol again, you can create a new time-sensitive ticket, with a different name, price, quantity and sales period. You can also create a regular priced ticket. This way, all ticket types appear on your event's checkout page and open for sale only at the pre-determined times.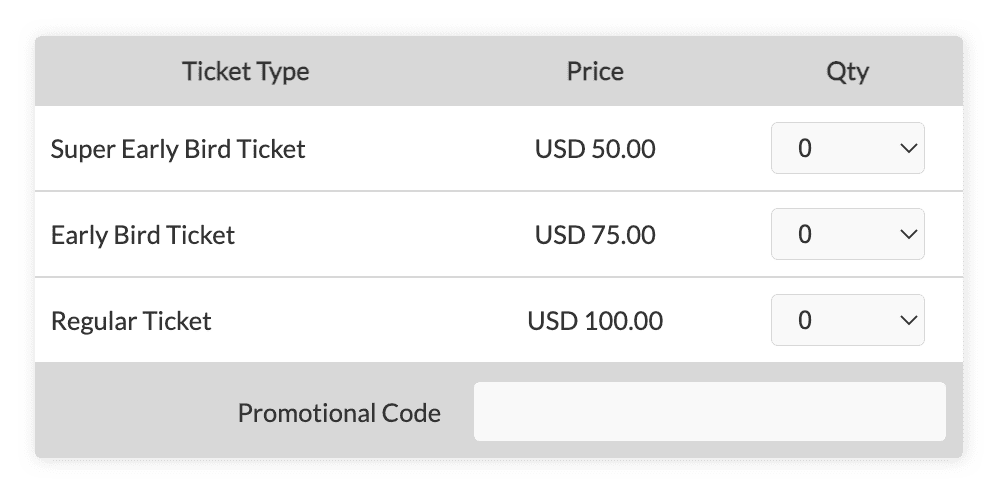 For more user guidance, please go to our Help Center. If you have any questions or need additional assistance, do not hesitate to contact us. Alternatively, you can open a support ticket from your Timely account's dashboard.