Timely's event platform can be used on any public or private website or mobile application. By default, when you publish events using our software, they become available online to everyone. However, if you want to limit who sees your events and calendar, you can easily hide them from the public or search engines. In this article you will learn all the options available to make your events and calendar private. 
1. Make your Events, Calendar and Listing Unsearchable
Excluding your calendar from search engine indexing will prevent the calendar and events from showing in search results. This way, only visitors who have the URL link to your calendar will be able to see your events.
Simply go to Settings<General<SEO Options, and check the appropriate box. Do not forget to click on the Save button to save your new settings.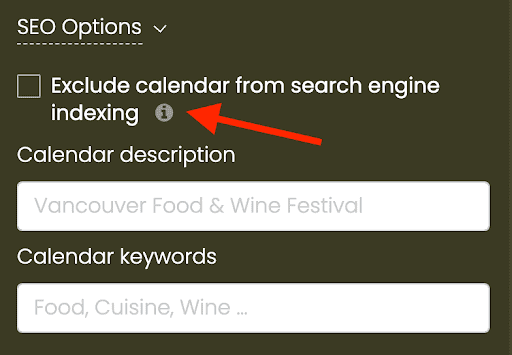 Please be aware that changing this setting could take a while to apply as it requires reindexing by the search engines, which could be days or even weeks. Therefore, we recommend doing this step before publishing any event in your calendar.
2. Hide your Calendar with a Password Protected Page 
Most CMS platforms, such as WordPress, Wix and Squarespace, have the ability to create password protected pages, where you can embed your Timely calendar and make it private.
Below, you can find all the steps to hide your calendar with a password protected page using the WordPress platform:
Log in to WordPress as the administrator.
Under Dashboard, click Pages, and then click Add New.
Add your Timely embedding code to the new page.
In the right column under "Status & visibility", click "Public" and then change the visibility to "Password Protected".
Enter a password.
Publish your newly-protected page.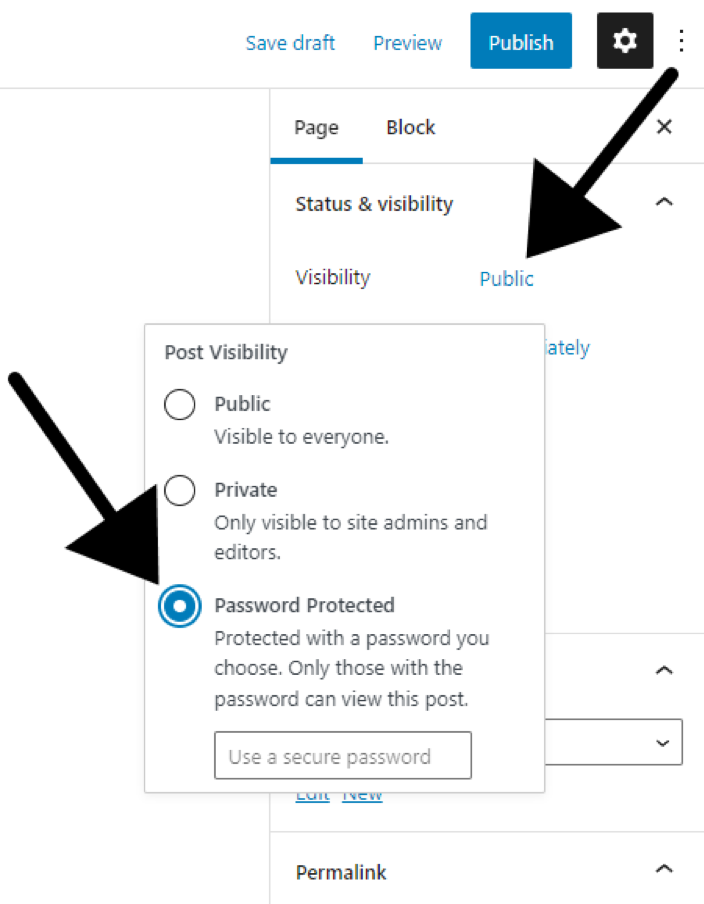 3. Embed your Calendar on a Private Website
Organizations use private websites in many ways. Intranets are often used as online private communications networks with access restricted to internal employees or members. On the other hand, extranets provide a closed, internal communications network for a specially selected group of external partners, such as clients, customers or suppliers. 
Regardless of the purpose of your private website, making your Timely calendar private is quite simple. You just need to create your calendar embedding code and add it to the backend of your private website, the same way you would do it if it were a public website. For additional instructions, please check the article How to Embed your Calendar. 
4. Show Certain Events to Authorized Users Only
In some situations, you may want to limit the online visibility of some but not all of your events. In this case, after creating your event on your Timely dashboard, instead of publishing it, you can Save as draft. Then, the event will only be visible in the Events>Draft section of your Timely dashboard.

To allow users to access these private events and see details, you can create an Editor account for them. For more information about user accounts, please refer to the article How to Add Users to Your Timely Account.
For more user guidance, please go to our Help Center. If you have any questions or need additional assistance, do not hesitate to contact us. Alternatively, you can open a support ticket from your Timely account's dashboard.