If you want to promote your events, calendars and listings online, you need to have a basic understanding of SEO. By adding your targeted keywords to the main SEO meta tags and event description, you can help your audience find your events when they search on Google and other search engines. In this post you will learn how to do keyword research to find the right keywords for your event business.
1. What is Keyword Research?
Keyword research is the process of finding all of the possible search terms that people use on Google and other search engines, which may be relevant to your business and your customers. It can help you determine if you need to change existing pages on your site, or create new content to match your audience's needs. 
The power of keyword research lies in better understanding your target market. By performing a keyword research you might be able to find out what people are searching for, how many people are searching for it, which country those people are located, keywords' ranking difficulty, and more.
2. How to Do Keyword Research for your Events
Step 1. Create a Topic List
Before you start your keyword research, it might be good to have a clear idea of who your customers are and their goals. Focusing on your audience first, and then looking for keywords will make your campaign much more successful.
Think about your clients, and make a list of what you think they are looking for when they come to your website or event calendar page. Are they looking for local or virtual events? Social, sports or professional events? Do they want to be entertained and have fun, be part of a community, join a cause, or improve their careers? Those will be the topics you might want to explore more when doing your keyword research.
Step 2. Expand your List with Potential Keywords
Now that you have a topic list, the next step is to expand that list with potential keywords and keyphrases.
For example, if one of your topics is "sports events", you should brainstorm some keyword phrases that are connected to this topic. Those might include:
sport events today
sporting events Vancouver
sports events in Vancouver BC
where to watch sports events in Vancouver
how to buy tickets for sports events Vancouver BC
You can also consult a dictionary for synonyms or collocations, and expand your list. Using the same example above, by looking at the dictionary you might find some useful synonyms, such as "sporting event","athletic event", "competition", "tournament", "match", and "game".
The point of this step is not to come up with a final list of keywords. You just want to do some planning before jumping into keyword research.
Step 3. Research Keywords
Keyword research is a creative step. You can start by typing your selected potential keywords on Google. At the bottom of the Search Engine Results Page (SERP), you will find some suggestions for searches related to your original topic.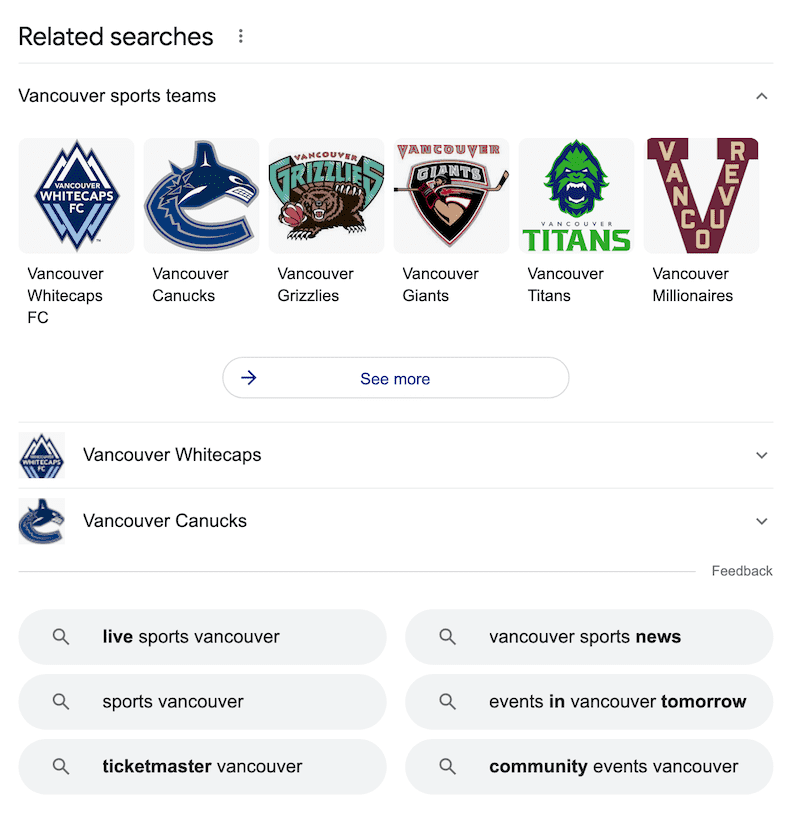 Alternatively, you can use software tools to assist you in your keyword research. Free tools include Google Search Console, Google Keyword Planner, Google Trends, Ahrefs Keyword Generator and Wordtracker. Paid tools include SemRush, Moz and Ubersuggest.
After you have done your research, select the main keywords you want your calendar to rank for. Ideally, you would like to pick long tail keywords, which are the longer (3-4 words), highly specific phrases people use when searching in search engines. They are easier to rank for because they have relatively lower search volume and competition levels than short tail keywords.
Examples of a long tail keyword for calendars are "new york events calendar", "downtown las vegas events", "sports events calendar" and "musical performance calendar". Examples of long tail keywords for events are "latin american cultural week", "metropolitan opera la boheme", and "vancouver canucks hockey game".
Step 4. Add your Keywords to your Timely Account
Once you finish the keyword list, add them to your Timely account. Follow all the steps in the user guide post Event SEO for Events, Calendars and Listings.
For more user guidance, please go to our Help Center. If you have any questions, do not hesitate to contact us. Alternatively, you can open a support ticket from your Timely account's dashboard.