With Timely, you can easily manage and upgrade your subscription plan as your event management needs evolve. You are able see information about your current product and change your plan, all from within Timely's event platform. In this post, you will learn where you can find your plan details, and how to make upgrades by yourself.
1. Why You May Want to Update your Subscription Plan?
We understand that small, medium and large organizations have different event management goals. Also, as event businesses develop and grow, their pains and needs may change over time. They may want to add new features or more users to help manage their events calendar. Therefore, working with an experienced event management software vendor that offers several upgrade options is key.
A Timely, we encourage our clients to be independent and manage their subscription plans accordingly. They can make upgrades and test new features by themselves directly from our event management software system. However, if they have any questions, they can always contact us.
We strongly recommend checking our software features list to see all the event management tools available to you. If you already know your desired features, keep reading to learn how to manage and upgrade your subscription plan.
2. Where Can You Find your Plan's Details?
To find information about your current product and plan, just follow the steps below:
Log in into your Timely account;
On the left menu, click on My account, and then go to the My plan tab;
A new page will load where you can see the details of your current plan.


3. What Plans Are Available for Upgrade?
On the My plan page, you will also be able to see which other plans available to you. We encourage you to compare them carefully, and choose the one that best matches your needs. Please note that our subscription plans are billed annually, so you can benefit from your Timely account throughout the year.
In addition to subscription plans, we also offer some add-ons. If you want to collect event registrations or sell event tickets from your website calendar, you can add the Ticketing/RSVP Add-On to your Timely account. Likewise, if you want to increase your event limit or your account users, you can add the Events or User Add-Ons. Please note that these two add-ons are only available to Growth customers. Also, they only become visible once the event or user limit is reached.
4. How Can You Manage and Upgrade your Plan?
Timely is a company that grows with you! If you need to add new features, sell tickets, or add more users to your account, you can always count on us to meet your event management needs.
To upgrade your subscription plan, first select the best option for you. Then, simply click on the Upgrade button below the plan description. A new page will open on your browser with the details of your order for you to confirm. If all is correct, click on Proceed to Checkout.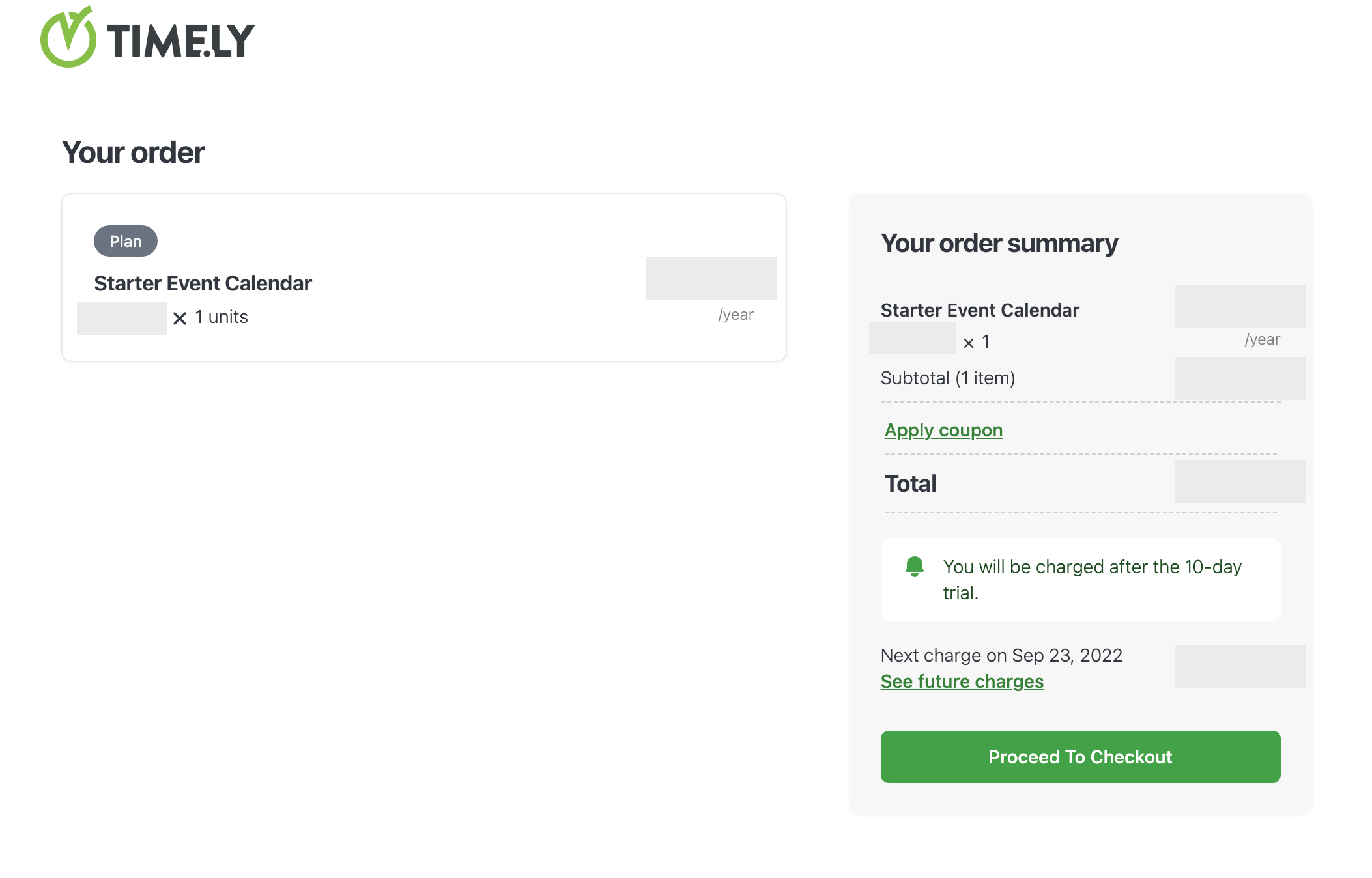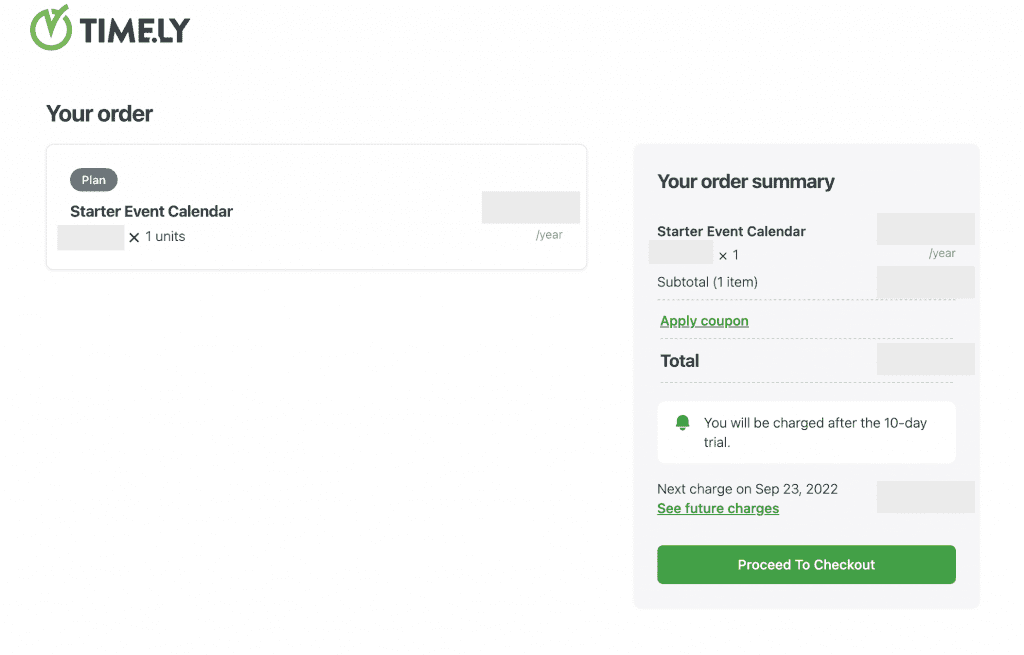 On the next screen, add your account information, payment method and billing address. Then, click on Subscribe to complete the transaction.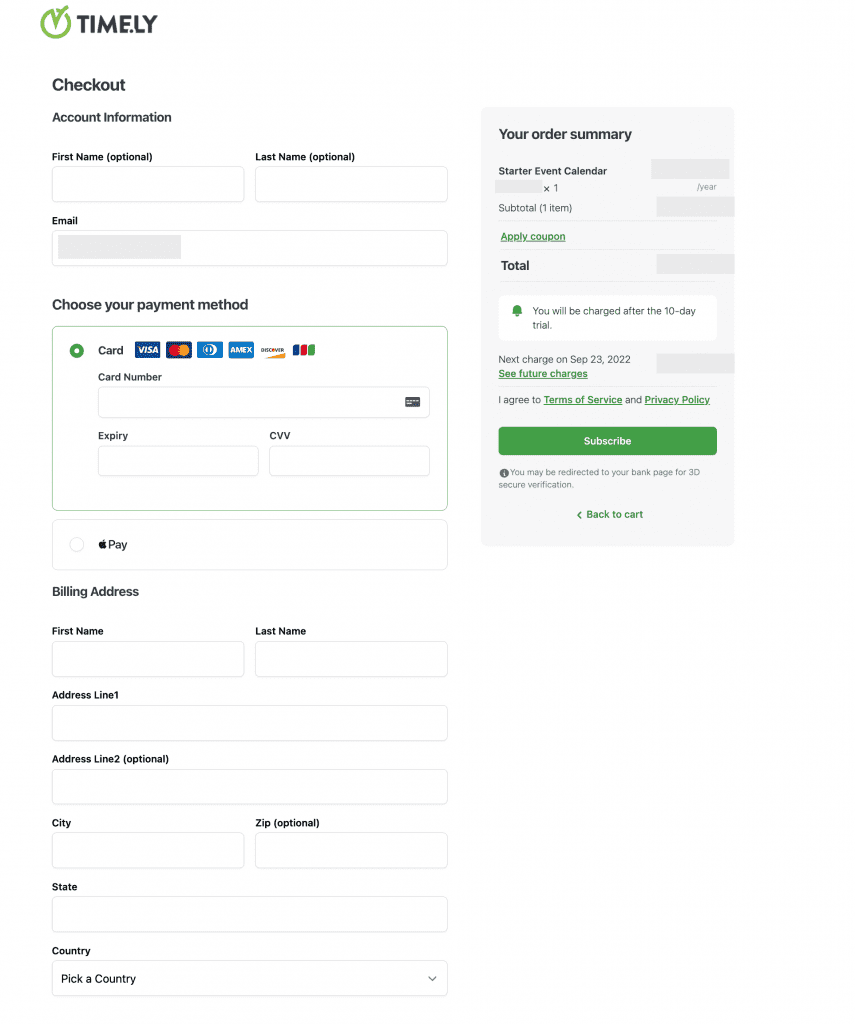 Currently, the subscription plans available for self-serve upgrade are Starter and Growth. Enterprise clients need to book a meeting with us. This way, we can offer them a totally customized plan in accordance with their needs.
For more user guidance, please go to our Help Center. If you have any questions or need additional assistance, do not hesitate to contact us. Alternatively, you can open a support ticket from your Timely dashboard.