With Timely Event Ticketing Platform or Ticketing Add-On, you can easily provide your customers with automated event ticket purchase confirmation receipts and emails, while organizing your event business finances. In this post, we'll teach you how to generate and manage event invoices.
1. Invoicing for Event Companies
Usually, invoices serve as documentation for a purchase. When talking about events, an event invoice is a document confirming that a customer has purchased a ticket to attend an event or another event related service.
Being able to properly invoice your event registrants is an important part of working in an event business. If you receive income from selling event tickets or event ads, you need to be aware of relevant income tax procedures of your state. Moreover, it will help you manage and keep track of event registrations and the income generated by your events.
In addition, several clients may request an invoice after making a payment. For example, if you are promoting a training course aimed at professionals, their employers may require an invoice or receipt for their own tax and accounting records.
2. Generating Professional Invoices
Generating professionally looking invoices for each payment received will certainly reflect well on your business. Clients may consider your event company to be more trustworthy thanks to your invoice, and to how fast they receive it after making the purchase.
One of the best things about using Timely event ticketing platform is that you don't need to manually generate an event invoice for each ticket sold. Our system auto generates event invoices for you, display line-item discounts when applicable, and calculate taxes without the need of manual intervention.
In addition, our software will send the event invoices to every event guest after payment is confirmed. Guests receive an automated email with their invoices attached, which they can download or print out.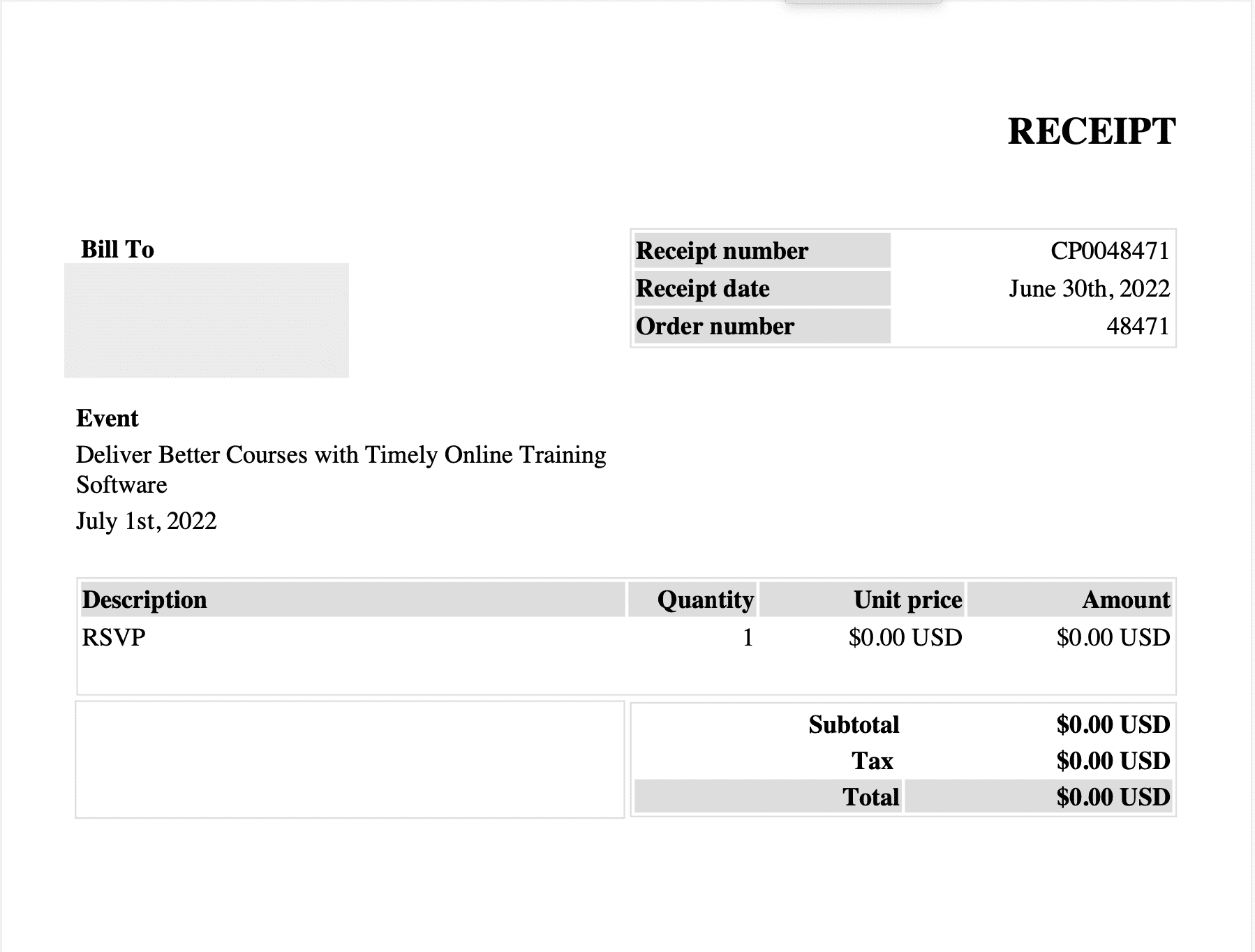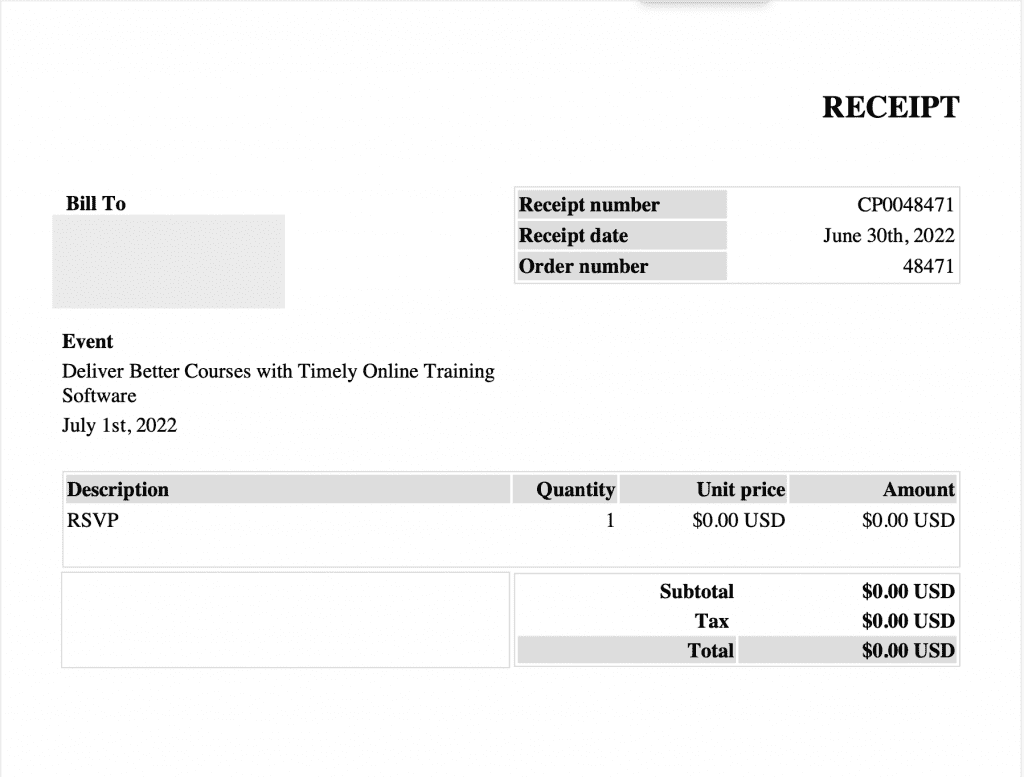 3. Managing Event Invoices
Besides auto generating invoices, Timely software allows you to review and manage all your event invoices from a single platform. To do that, just follow the steps below:
First, login into your Timely account.
On the main navigation menu, go to Ticketing, and then click on Invoices.
A new page will load where you can see a list of all your event invoices.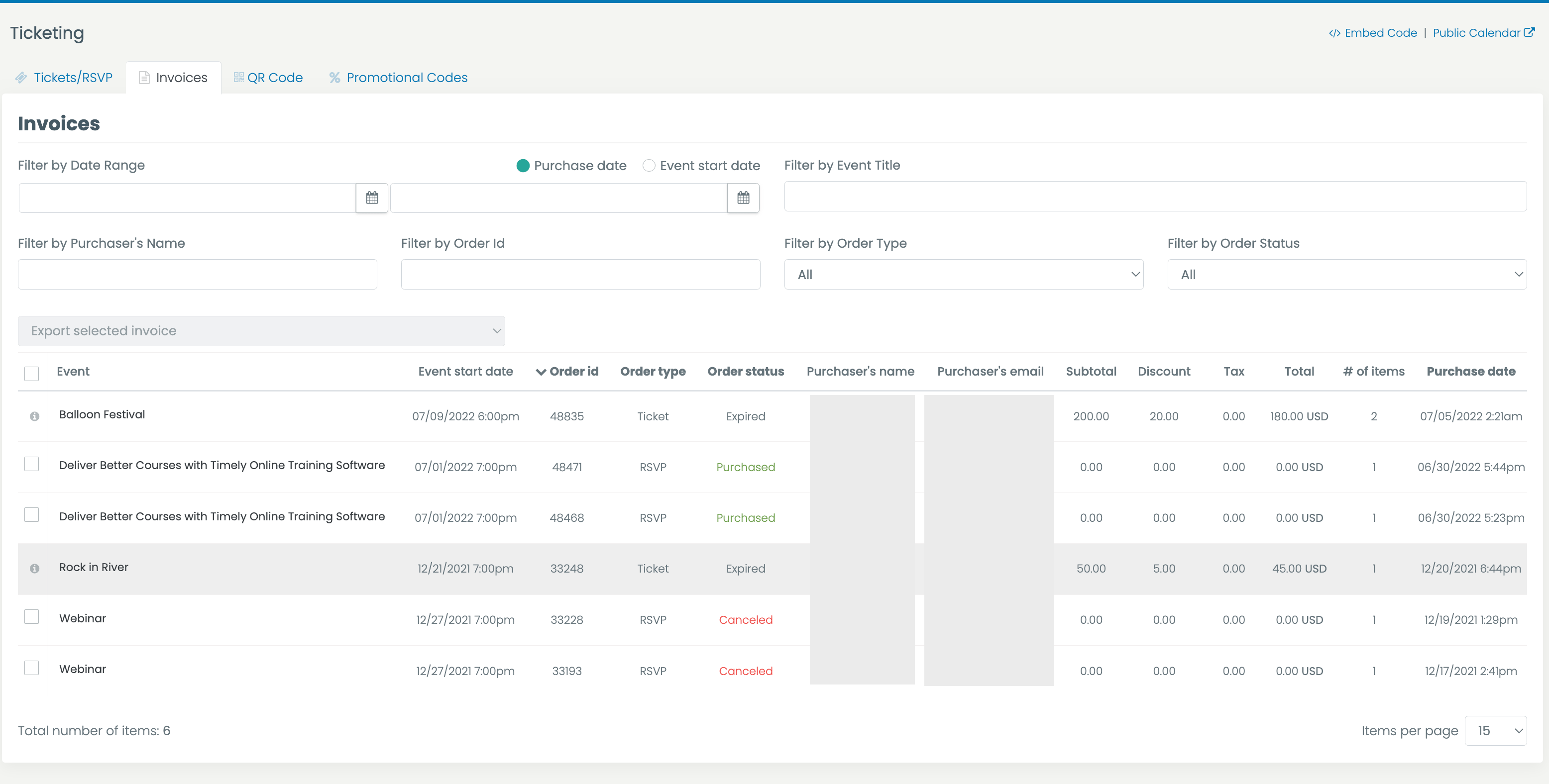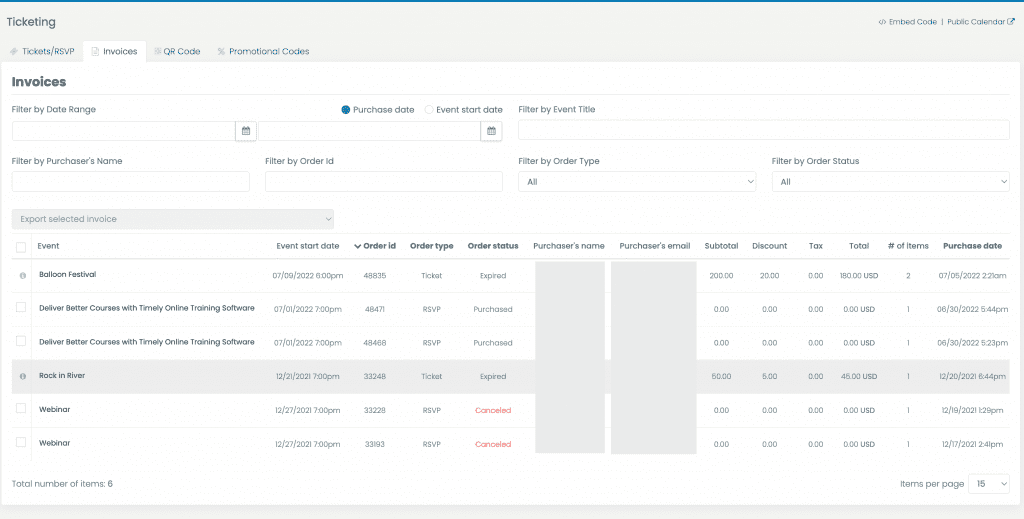 You can search for individual invoices using any of the following filters:
Date range
Purchase date
Event start date
Event title
Purchaser's name
Order ID
Order type
Order status
After selecting an event invoice, you can download it in PDF or CSV format.
If needed, you can also cancel an invoice or issue a refund. Find the step by step explanation in our user guide on How to Refund or Cancel an Invoice.
For more user guidance, please go to our Help Center. If you have any questions or need additional assistance, do not hesitate to contact us. Alternatively, you can open a support ticket from your Timely account's dashboard.