With a Timely account, you can easily customize the emails your customers receive after performing an event booking action in your online event calendar. Using Timely automated email templates will help you better communicate with your event registrants and save you tons of time. This is true especially when you use Timely RSVP booking request feature and need to let your registrants know the status of their registration solicitation. In this post, you will learn how to customize RSVP Booking Request email templates.
1. RSVP Booking Request Email Templates
After you have set up the booking request feature for your free event, every time a customer requests to participate on your event, it will trigger the booking request workflow.
Currently, the workflow has three different email templates. Timely event management platform sends these emails to your customers based on actions performed by them or by you on the system. You can edit and customize these email templates as you wish to make sure your customers receive the correct message from you.
The three customizable RSVP booking request email templates are the following:
RSVP Booking Request Template. This is the email your registrants will receive when they request to participate in your event. Since you need to approve their request, at this step the email just lets them know that their request has been received and is being processed.
RSVP Booking Request Accepted Template. If you accept your registrants booking request, your customers will receive a confirmation email with a ticket on it. This means you approved their participation in the event, and they will be able to attend the event.
RSVP Booking Request Rejected Template. If you reject any registrant's booking application, they will receive an automated email with the rejected template. This means they won't get a ticket and won't be able to attend the event.
2. Editing your Email Templates
As mentioned above, the RSVP booking request email templates are completely customizable. This means that you can edit the whole content and even add dynamic fields. Moreover, you can add your company logo or any image from your media library to the templates. You can use all the resources to make the email templates look more like your brand.
Here's how you can find and customize each email template mentioned above:
Log in to your Timely account.
On the main menu on the left, go to the Ticketing/RSVP section.
Then, click on the Templates submenu.
A new tab will open on the screen with all the email templates available to you. You will be able to find the RSVP booking request email templates on the RSVP / Registration section.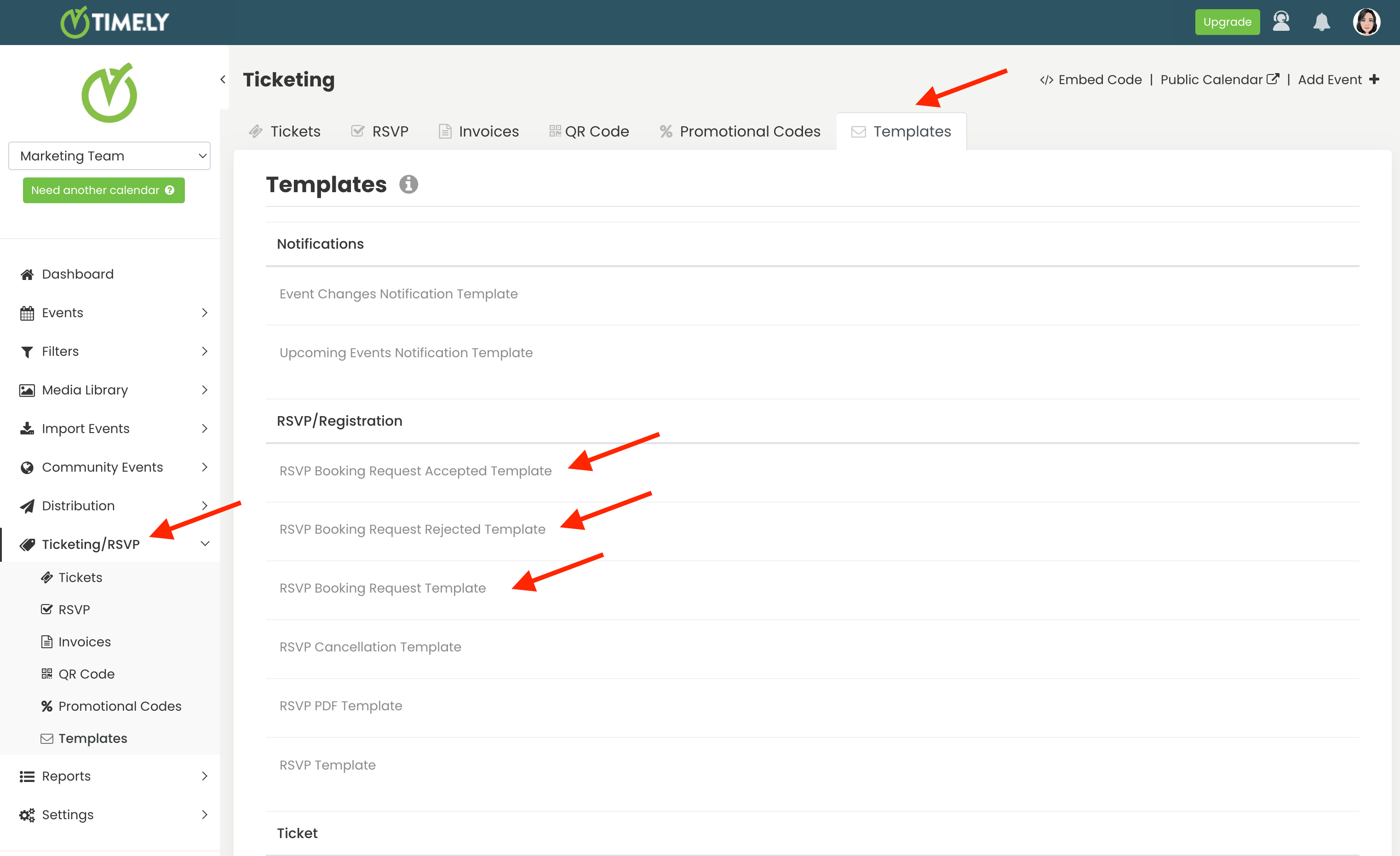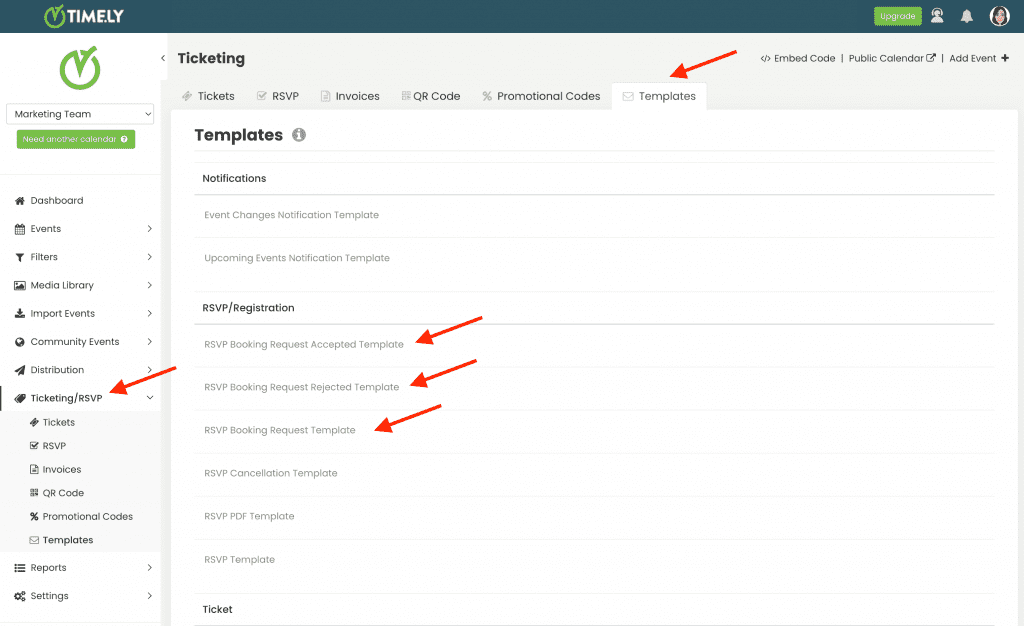 Hover the mouse over the template you want to edit to see the Edit button, and then click on it.


A new page will open on the screen where you can edit your email template as you need. We recommend learning more how to customize email templates, in particular the section about dynamic fields.
After personalizing your RSVP booking request email templates, click on the Save button to save your work.
As mentioned above, these email templates are part of a booking request workflow. Timely event management system sends them automatically to your customers based on actions performed on the requests. In this case, the actions could be the booking request by the customer, and your approval or rejection.
For more user guidance, please go to our Help Center. If you have any questions or need additional assistance, do not hesitate to contact us. Alternatively, you can open a support ticket from your Timely account's dashboard.