With a Timely account, you can easily manage your event capacity by checking in your attendees at the door when they arrive at your event. You can do it automatically by scanning the QR code located on their event tickets and RSVPs vouchers, or manually through Timely's event platform. In addition to providing a quick, contactless and paperless experience to your patrons, it helps you know who came to your event and manage your attendees' list. In this post, you will learn all the steps to use QR codes for your event tickets and RSVPs.
1. What are QR Codes?
A quick-response code (aka QR Code) simply put is a machine-scannable image. It consists of several black and white squares and dots. It is typically used for storing data that can be read by a camera app on a smartphone.
Basically, QR codes work in the same way barcodes at the supermarket. For events, they are very useful. Since each event ticket has a unique QR code, it speeds up the event check-in process, helps keep track of who has arrived at the event, and prevents ticket fraud.
Timely automatically creates an individual QR code for each of your tickets. Therefore, you do not need to worry about generating QR codes from external sources. QR codes can be scanned either from a printed ticket or from their digital versions directly from attendees' mobile devices.
2. Locate the Event in the QR Code Tab
The first step to use this feature is to find your event in the QR Code tab. The QR Code tab is located in the Ticketing menu in your Timely dashboard.
Alternatively, you can manually click on the "Marked as scanned" button for each participant.
At the end, you can click on the "View summary" button to check the status of your event.
3. Scan the QR Code from your Event Tickets or RSVPs
Once you have selected your event, a list of attendees will be displayed. Then, you can click on the "Scan QR Code" button to use your phone camera to scan the event tickets or RSVPs. You may need to click "OK" on your device to allow it to use your camera app.
After that, just point the camera at the QR code on the event ticket you want to scan. It can be a paper ticket or an e-ticket on a smartphone screen. If the ticket presented has the right QR code for the event, the system will scan it properly. Then, the ticket will be marked as scanned in the attendee's list.
4. Manually Mark the Ticket as Scanned
There will be times when you cannot scan the QR code with your camera and will need to mark tickets as scanned manually. For example, if there is an issue with the camera of your device, or attendees forgot to bring their event tickets.
In these situations, you will need to browse the attendees' list, confirm that the person had purchased the ticket, and then allow him/her to enter the event.
To keep everything neat in your Timely system and be able to better control your event attendance, we recommend you manually mark the ticket as scanned. You can do that by clicking on the "Mark as scanned" button, in the Action column of the attendee's list in the QR Code Tab.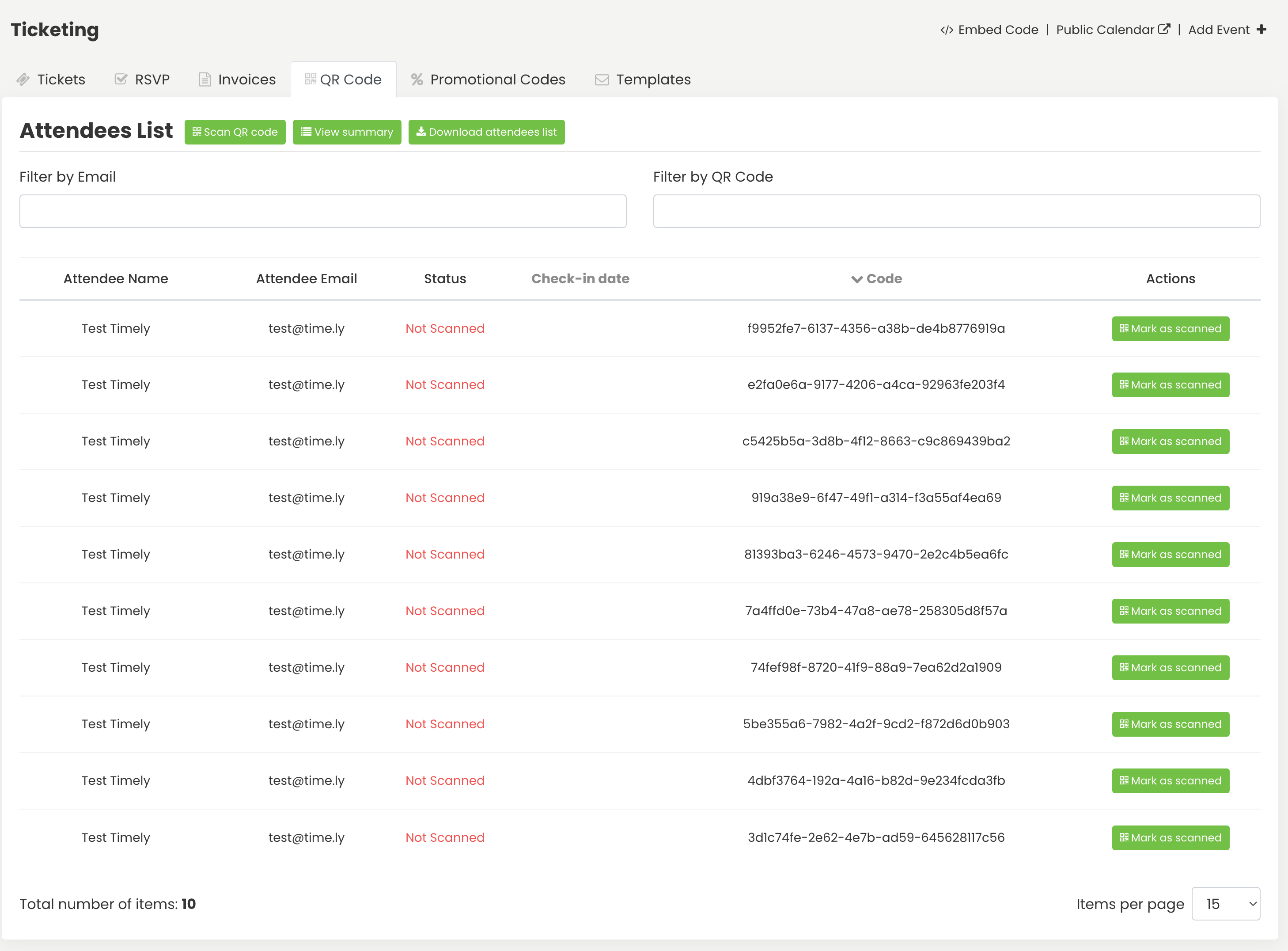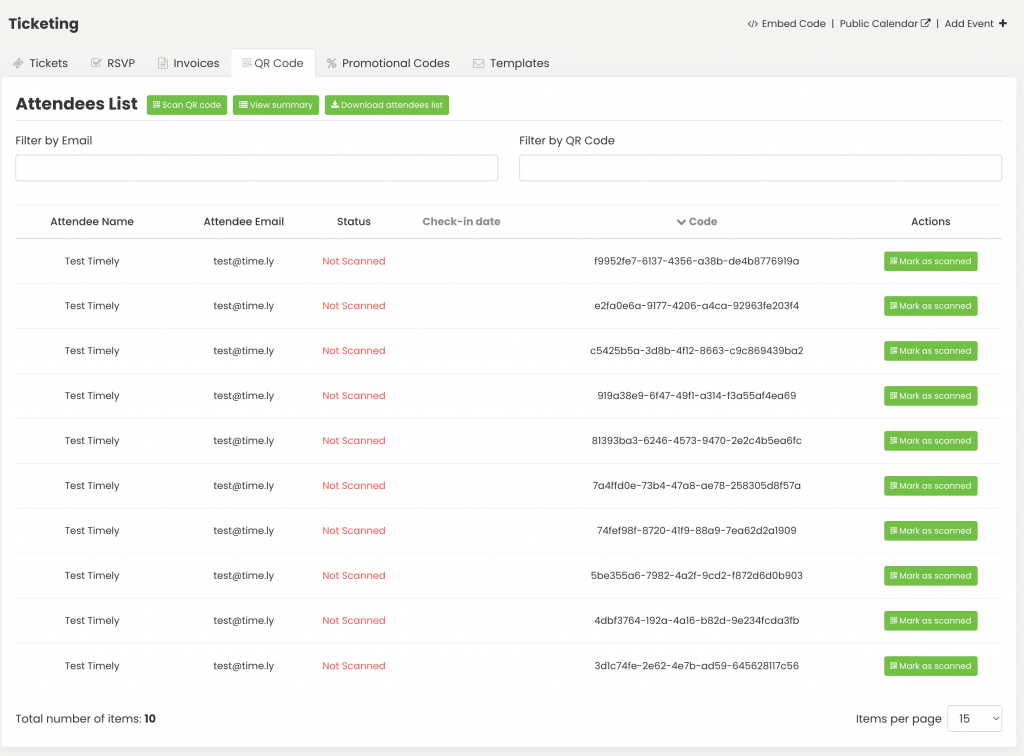 5. View Event Ticket Summary
At any time you can click the button "View summary" at the top of your screen. A popup will show on the screen. You will be able to see your event information, such as total number of tickets, tickets available for sale, number of tickets sold, and if the tickets were scanned or not scanned yet.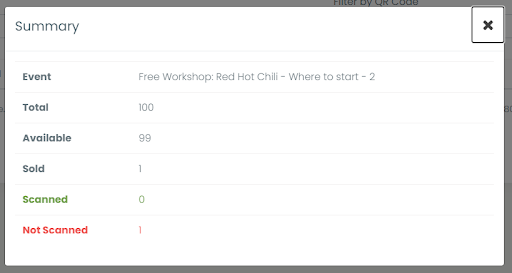 6. Download Attendees List
To download the list of attendees of an event, click on the event you want to download the list from in the QR Code tab. After choosing the event, you can click on the "Download attendees list" blue button.
The system will generate a CSV file. Once you open the CSV file, you can see the list of attendees.

For more user guidance, please go to our Help Center. If you have any questions or need additional assistance, do not hesitate to contact us. Alternatively, you can open a support ticket from your Timely account's dashboard.