With Timely event management software you can not only create recurring events, but also allow your audience to register or purchase more than one recurrence of the same event simultaneously. In this post, you will learn how to allow recurring bookings so your customers can book multiple repeating events on the same transaction.
1. Creating Recurring Events
Prior to allowing recurring bookings, you must create the related recurring event with the appropriate repetition rules.
All Timely event software solutions come with a very flexible and comprehensive recurring events feature. For example, you can create events that repeat every day, week, month, or only at certain days. You can also exclude selected days on the calendar, and set up the date the recurrence ends.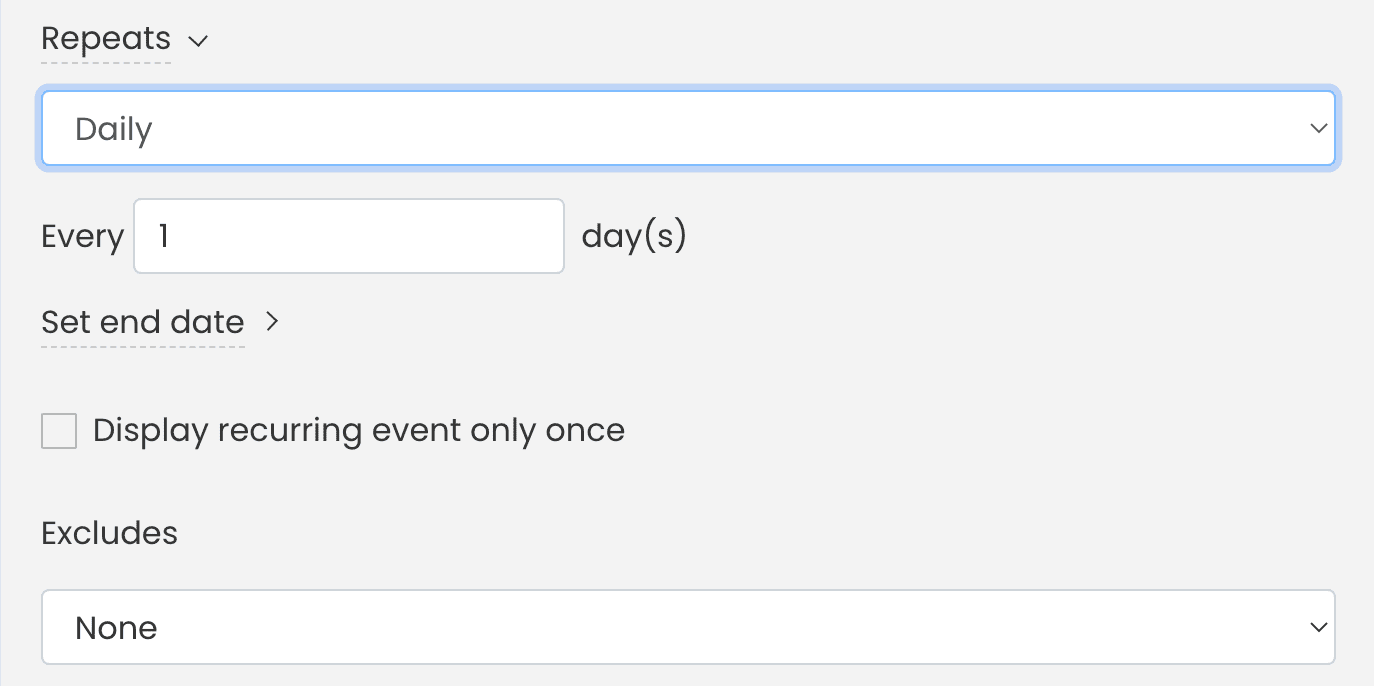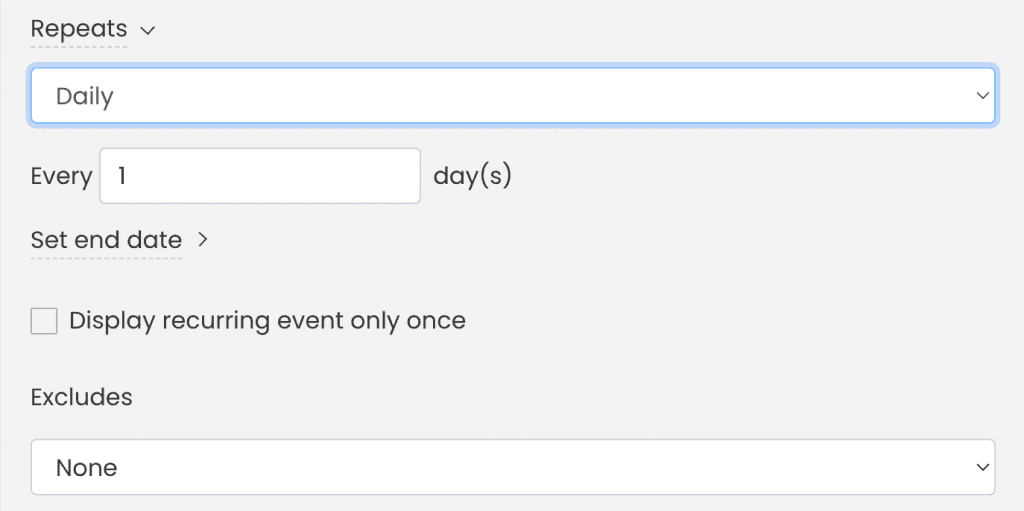 If you are new to creating recurring events on Timely event platform or need a refresher, check out our help page on how to create recurring events.
2. Timely Registration and Ticketing for Repeating Events
At Timely, we are focused on creating event software solutions that empower event professionals to manage events more efficiently. In addition to our popular events calendar software, we offer other event management systems, such as event registration software, event ticketing software and event booking software.
Combined, Timely event technology allows you to collect event registrations for free events, and sell event tickets for paid events. Not only as single events, but also in the format of time slot appointments. And all from your own website events calendar.
Depending on your subscription plan, you might also be able to set up recurring bookings. This feature allows your customers to book multiple recurrences of an event at the same time. This provides a much better experience than asking them to register for every single occurrence of the event, one by one. It can certainly save them time when booking multiple repeating events. And what is more, this feature works for both free and paid events, as well as single and time slot-based events.
3. Setting Up Recurring Bookings
To set up booking recurrences, follow the steps below:
First, log in into your Timely client account;
On the left side menu, go to Events;
Create your repeating event by setting up the appropriate recurrence rules;
Next, go to the cost and tickets section to set up the booking function;
Pick one of Timely's options for either free (event registration or time slot registration) or paid events (event ticket or time slot ticket);
Then, fill out the ticket information (i.e. name, discount code, price, availability, etc.) accordingly;
If your plan has recurring bookings, at the end of the ticket form you will see the feature configuration options. The default setting is one occurrence, which means attendees can only book one event recurrence at checkout.

To change that setting, determine how many future recurrences you want your customers to book at the same time. The maximum number of future occurrences is 12.
Check the box Agree to all terms to agree with our Ticketing Terms of Service; and
Finally, click on Publish to publish your recurring event in your online calendar.
4. Purchasing Multiple Event Recurrences
After following the steps above, your recurring event, with all the appropriate recurring booking configurations, will be visible on your events calendar.
By selecting the recurring event and clicking on the corresponding CTA button (e.g. Tickets, RSVP, Book, etc), your website visitors will be able to see all the ticket types or time slots available for that particular event. Once they select the desired option, additional occurrences of that event will appear on the checkout page.
Please note that the first day on the list is the current occurrence of the event, which cannot be unchecked. Also, if one of the event occurrences has zero available spots, the system will automatically mark it as Sold Out, and disable the possibility of selecting that date.
Once attendees select the desired event instances, they can add any applicable promotional code. The discount code will be applied to the whole transaction.
Next, attendees must inform their order details and ticket holder information, before proceeding to checkout. After order completion, attendees will receive one ticket per event occurrence registered or purchased.
5. Managing RSVPs, Tickets and Invoices for Recurring Bookings
As mentioned above, Timely event booking software generates one ticket per event recurrence booked. This is true for both free and paid events. Therefore, RSVPs and tickets can be managed individually, despite the fact the they were booked all together. If you are interested, learn more about generating and managing event tickets, as well as refunding and cancelling them.
In contrast, a recurring booking transaction generates only one invoice, regardless of the number of event occurrences booked. Therefore, an invoice can contain several event tickets, including tickets for recurring events. In this situation, our system will let you know by displaying the message "includes x additional recurrences" on the Invoice report.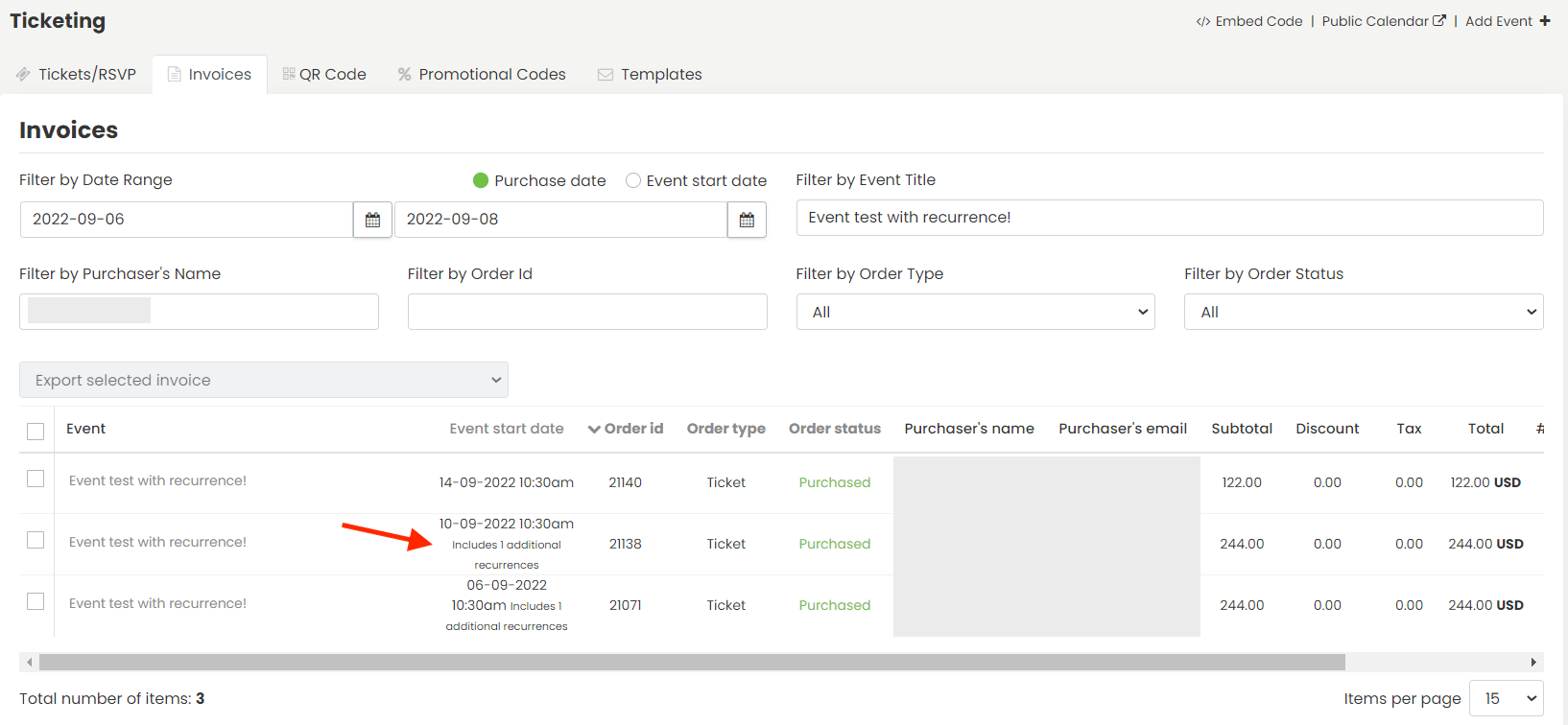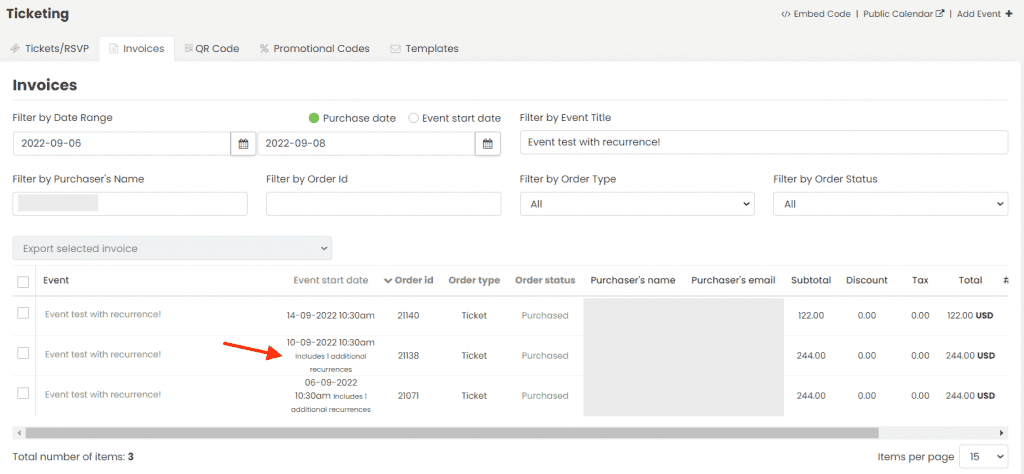 Nevertheless, you can cancel and refund tickets for specific recurring events without cancelling and refunding the whole invoice. To learn more, check our help pages on how to generate and manage invoices, and how to refund or cancel invoices.
For more user guidance, please go to our Help Center. If you have any questions or need additional assistance, do not hesitate to contact us. Alternatively, you can open a support ticket from your Timely account's dashboard.