With a Timely account, you can change your account general settings in many ways. For example, you can change your events calendar's name, colours, timezone and more. In this post, you will learn all the steps to set up your Timely account.
You can start by accessing the "Settings" Tab on the left menu of your Timely dashboard.
1. Customizations to the Account General Settings
After you click in the Settings menu, you can edit the calendar settings on the panel on the right. You can edit:
Calendar name;
Language;
Payments Receivable;
Branding;
Date & Time;
Views;
Event Submission Form;
Misc Settings;
Relabelling;
SEO Options; and
Custom Domains.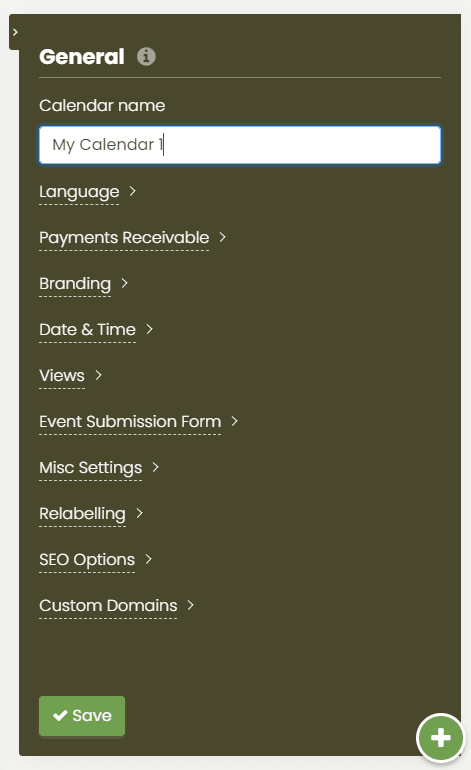 2. Calendar name
You can change the calendar name. Please keep the name under 1000 characters.

3. Language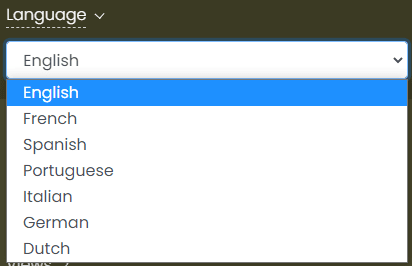 You can change the language of the calendar. At the moment the available languages are:
English (default);
French;
Spanish;
Portuguese;
Italian;
German; and
Dutch.
4. Payments Receivable
You can set up an account for receiving payments through your calendar. Currently we accept Paypal, Stripe and Square accounts.
5. Branding
You can choose an image for your dashboard icon and for your calendar logo. You can use the images already uploaded to the media gallery or you can add new ones by clicking the "Upload" button.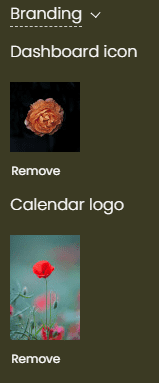 6. Date & Time
If you need to change your calendar's date and time, you can do that by changing the information in the "Date & Time" area. You can choose the date format and timezone.
7. Views
You can change the default settings of your calendar view, and the default view for either desktop and mobile. You can also set the maximum number of events that will be displayed per page, and remove or add buttons that will help your user navigate in your calendar.
8. Event Submission Form
You can add an event form submission to your Public Events Calendar and allow users to submit events that will be added to your calendar. You can set the permissions according to your needs. For detailed instructions on how to use this feature, please check the user guide How to Set Up a Front End Submission Form.

9. Miscellaneous Settings
In the miscellaneous settings you can edit various miscellaneous settings, such as:
Show Preferred location;
Display the "Add to Calendar" button on the Public Calendar;
Show "Print" button on the Public Calendar;
Display filters, then you will be able choose which customized filter will show up in your calendar;
Change the the name of the "Tickets" button; and
Choose the Primary calendar URL and;
Choose Event URL format.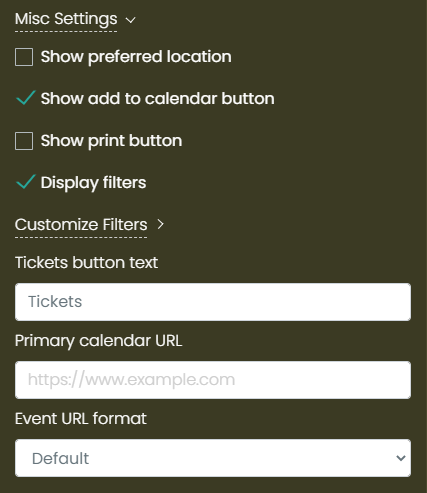 10. Relabelling
With a Timely account, you can relabel any word. You just need to choose the word you want to display with a different name and write the word for it's replacement.
11. Search Engine Optimization (SEO) Options
You can choose to exclude your calendar from search engines indexing if you want to do so.
And for SEO purposes, you can also add your calendar description and your calendar keywords.
For more information on SEO Optimization, please refer to the Search Engine Optimization (SEO) Starter Guide.
12. Custom Domains
With a Timely account, you can customize your default URL. To learn how to do that, please check the How to Add a Custom Subdomain for your Calendar Help Page.
13. Save your Account General Settings
When you are done editing the settings, click the Save button.

For more user guidance, please go to our Help Center. If you have any questions or need additional assistance, do not hesitate to contact us. Alternatively, you can open a support ticket from your Timely account's dashboard.