With a Timely account, you can easily create events to populate your online events calendar. In this post, you will learn how to create events, save them as draft, schedule publication and publish them to your calendar.
1. Several Ways to Create Events on Timely Dashboard
After signing in into your Timely account, the first item on the left side bar is the menu Events. Click on +Add Event to create an event. You can also find an +Add Event shortcut on the top right corner of your dashboard.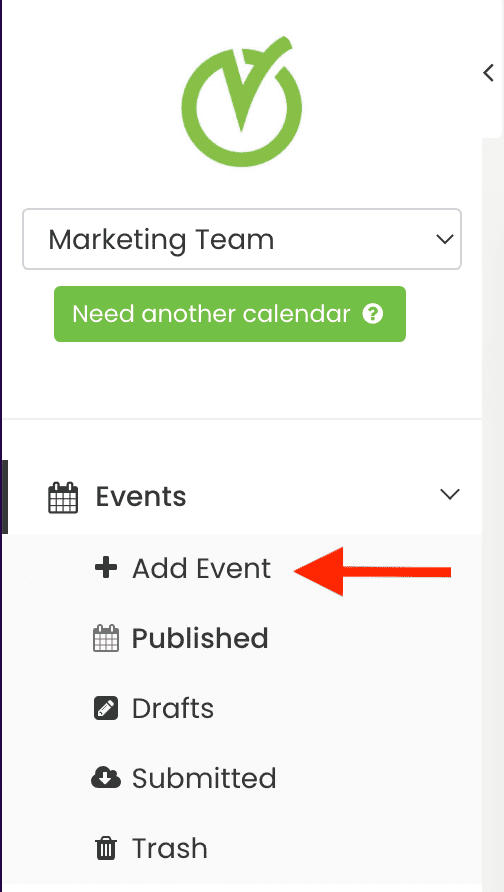 2. The Right Content to Create an Event
When creating an event, there is lots of content you can add to your event post to enrich your users' experience. From your Timely event management software dashboard, you can add the following content:
Event title;
Event description;
Featured image;
Featured event
Date and time;
Timezone;
Recurrence;
Venue details;
Categories, tags and filters;
Cost and tickets;
Social media automations;
Event status; and
Internal notes
You can create and edit your new event, while seeing how it will look like with our preview visual display.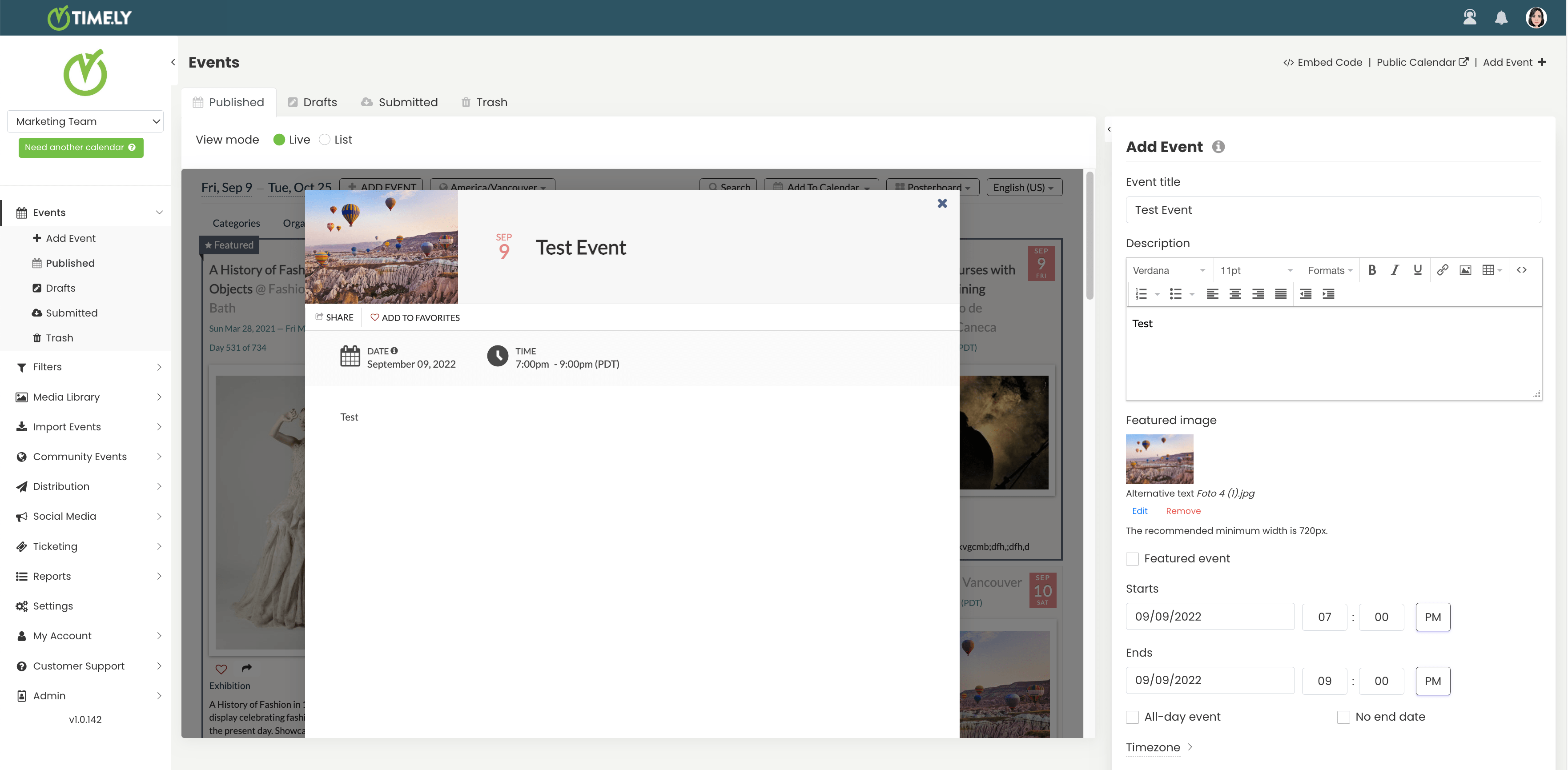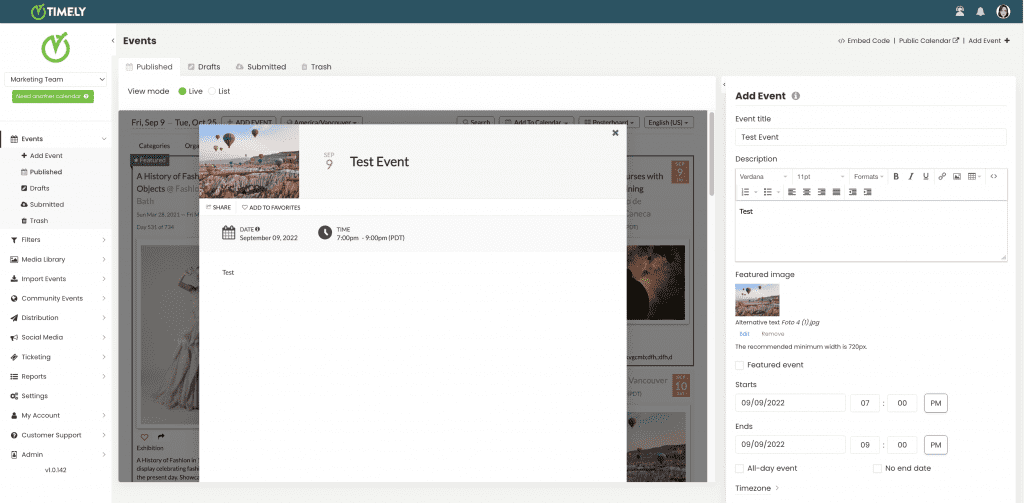 If you wish, you can expand the event form so it occupies the full screen, giving you more working space to create your event. Just click the expand or collapse button on the top left corner of the form to toggle between showing and hiding the event preview.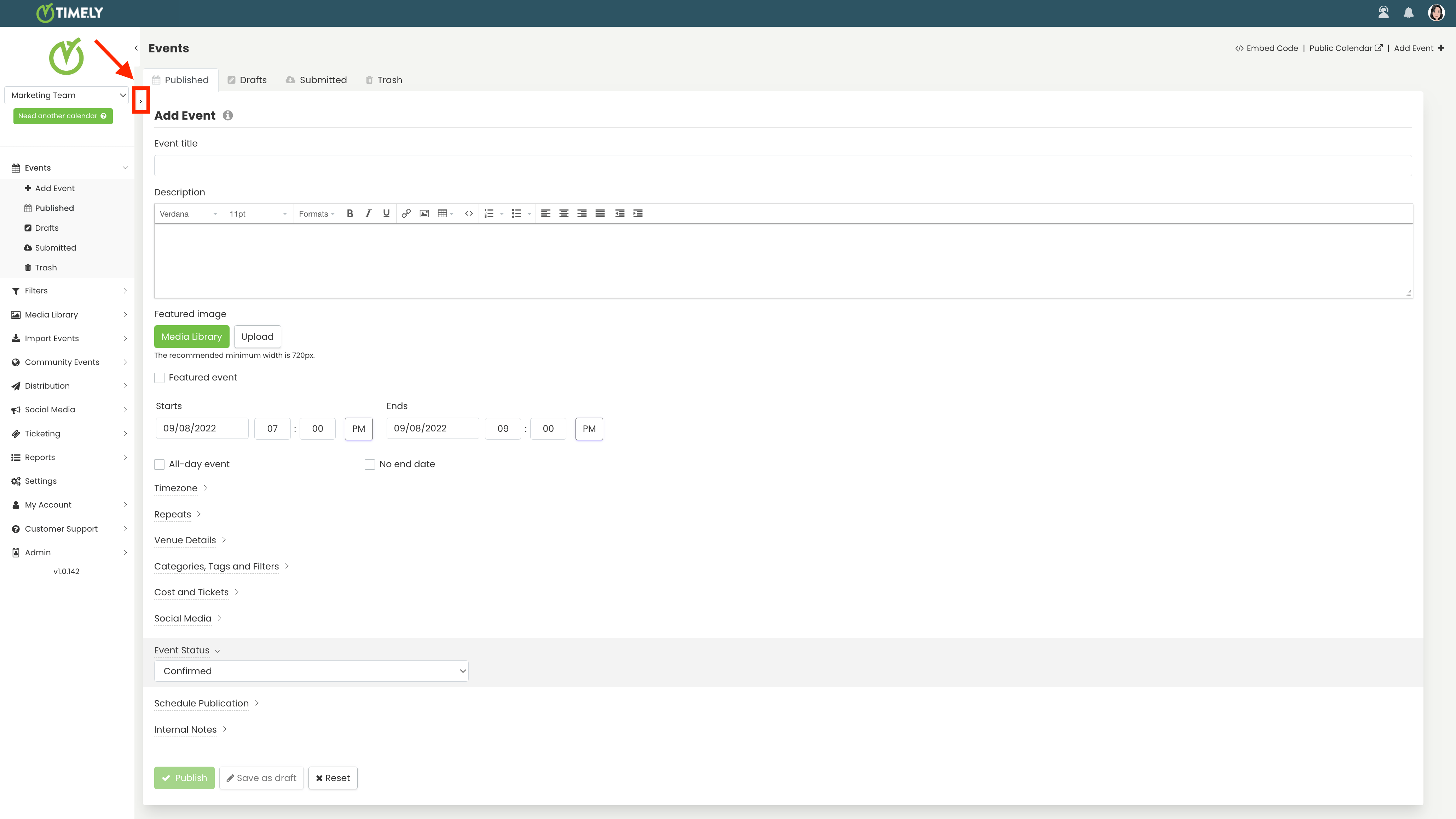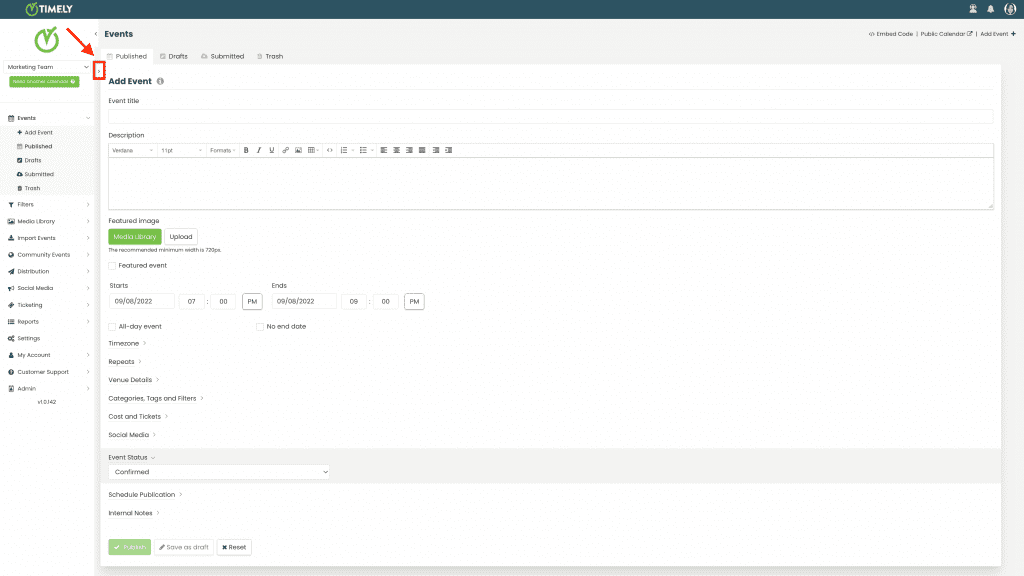 Continue reading to learn how to create an event on your Timely event management software. Alternatively, you can see the video tutorial below.
2.1 Event Title
You can enter any text to be the title of your event. The title may not be greater than 1,000 characters. However, we recommend a shorter title in order to improve your event SEO.
2.2 Event Description
You can enter a description of your event in the text editor. The description and other text fields in your calendar will vary according to the text tools available in your plan.
Some plans will only have the following text tools: bold, italic, align, link, insert image. Other plans will also have formatting tools, like numbering, bullets, headings, etc.
2.3 Featured Image
Make your event stand out in your events calendar by adding a featured image to your event post. You can upload a new image or use a previously uploaded image from your Media Library. We suggest following our image guidelines to improve the event discovery experience for your audience.
If you do not pick a featured image for your event, your public calendar will display the Timely logo. However, if you create and select an event category, and the category has image, this will be used as the event featured image.
2.4 Featured Event
Depending on your subscription plan, you might be able to highlight certain events as featured events on the public interface of your calendar of events. If you are interested, learn how to create featured events in your Timely events calendar.
2.5 Date and Time
Events can have a fixed date, thus happening on a single day. Events can also have a range date, therefore occurring during several days. In this case, events will have different start and end dates.
If the event is a multi-day event, on certain calendar views, the event will appear on every day during that multi-day event, with a note saying "Day X of Y".
You can choose "All-day event" just by clicking on the appropriate checkbox. No time will be needed in this case, and a note will appear on the calendar view that the event is an all day event.
In addition, you can choose the "No end date" for your event. In this option, you will not be able to select the end date or end time for your event.
If you are interested, learn more about how to create one day and multi day events.
2.6 Timezone
You can choose a different timezone for a specific event just by clicking on the dropdown menu and selecting the appropriate time zone for the event.
If no timezone is selected, the event timezone, by default, will be the calendar timezone. The default timezone can be changed in the Settings Tab, in General, Calendar Date & Time options.
For more information about this option, please refer to the how to set up your account general settings and how to set up multiple time zones for your calendar and events help pages.
2.7 Repetition Settings for Recurring Events
Use the "Repeats" setting to make your event recurrent. You can choose from "Daily", "Weekly", "Monthly" and "Custom" recurrence. The "Custom" recurrence allows you to choose individual dates for that event.
If you choose one of the first 4 recurrence types, you will also have the option to "Exclude" certain dates. "Exclude" has exact same recurrence types as "Repeats" but the opposite action.
For example you can choose to "Repeat" a "Weekly" event on Monday, but to "Exclude" "Monthly" the first Monday of the month and the Christmas Monday, using "Custom".
If you would like to learn more, check the how to create recurring events help guide.
2.8 Venue Details
With a Timely account, you can create any type of event, including in-person, virtual and hybrid events. Indeed, you can choose a venue for your event and it can be either online or have a physical address.
If you have already created a venue, you can choose it by clicking on the dropdown menu and selecting the appropriate venue. You can also create a new venue by clicking on the "+ New" button and add the appropriate information for the venue.
For more information, please go to how to create in-person, virtual and hybrid events help page.
2.9 Categories, Tags and Filters
To organize your new event within your events calendar, you can connect it to the available filter groups (or taxonomies). According to your plan, your event may have some or all of the following filter groups available:
Categories;

Tags;

Organizer; and

Custom filter groups or taxonomies created by you (i.e. Band, Artist, Hashtag, etc).
You can choose for your event a previously created value for each of them, choose "New" to create a new value, or "Edit" to update or delete a selected value filter group.
If you are interested, we recommend checking our how to organize your calendar with filters page.
2.10 Cost and Tickets
If you want to collect registrations or sell tickets to your events using Timely event platform, feel free to add the ticketing add-on to your account by yourself or contact us if you need help.
By adding this add-on, you will be able to collect event registrations for your free events as well as sell event tickets to your paid events. See below some of our RSVP and ticketing features:
To learn more, check all the available event software features.
2.11 Social Media Automations
Depending on your subscription plan, you might be able to post your events automatically on social media. Currently, we support event post automations with Facebook, Twitter and LinkedIn.
2.12 Event Status
Depending on your plan, you can set up and change the status of your event by choosing the appropriate option in the Event status dropdown menu. You can also automate this task by enabling dynamic event status.
If you are interested, we recommend you check the how to set up and change the event status of your events help page.
2.13 Internal Notes
Depending on your subscription plan, you might be able to add internal notes to your events. The purpose of this feature is for you to have relevant internal event information at hand within our system, but keep it confidential. You can add any kind of note. It will be visible only to you and your team.
3. Schedule, Publish, Save as Draft, or Reset your Event Post
At the bottom of the edit event area, you have the option to schedule the event post publication. If that is the case, simply click on Schedule Event Publication, and select the date and time for publication.

Then, just click on Save as Draft. The new event post will be saved to your Draft folder and will be published as scheduled.
Alternatively, you can immediately publish your event post to your online event calendar, save it as draft, or reset it to remove all the changes you have made.


For more user guidance, please go to our Help Center. If you have any questions or need additional assistance, do not hesitate to contact us. Alternatively, you can open a support ticket from your Timely account's dashboard.